This Herb Roasted Red Potatoes recipe makes the best easy side dish! The potatoes are tossed with oil, Italian herbs, and baked until crispy.
Sometimes it's nice to have a few 'Go To' recipes on hand. These are recipes that you've made so many times you could probably whip them up in your sleep. These Roasted Red Potatoes are one such recipe.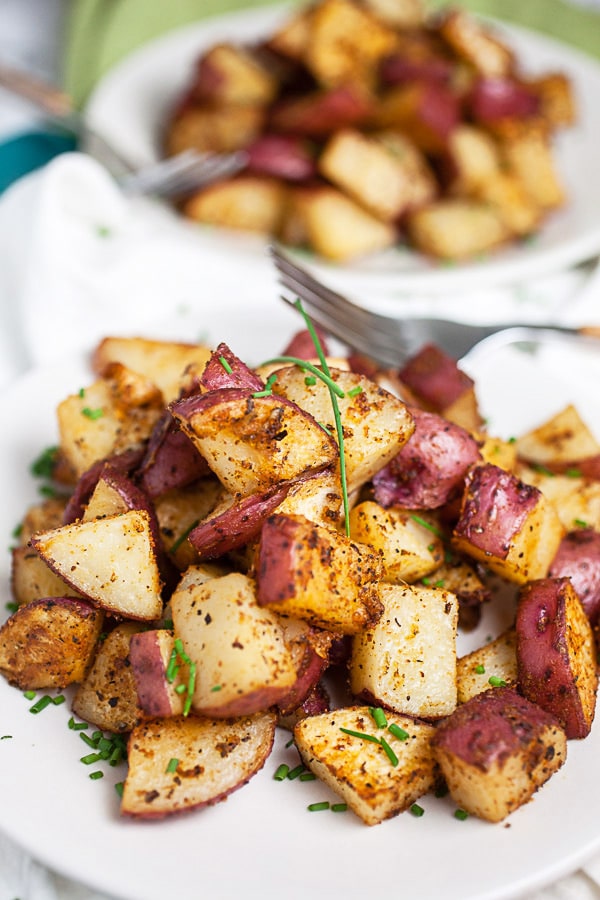 There's nothing fancy about these potatoes - They're diced, tossed in some olive oil and spices, and then roasted in the oven until crispy.
These roasted potatoes are actually vegetarian, vegan, and gluten free but they don't taste like it. They're totally satisfying and pair perfectly with anything from slow-cooked meats to eggs to fresh vegetables. This is truly a versatile dish.
They're a great holiday side dish and simple enough to throw together any night of the week. I don't know about you guys but I usually have a bag of potatoes laying in the cupboard and I like to use them up before they start to sprout.
This is just the recipe to have on hand to keep your potatoes from sprouting.
Jump to: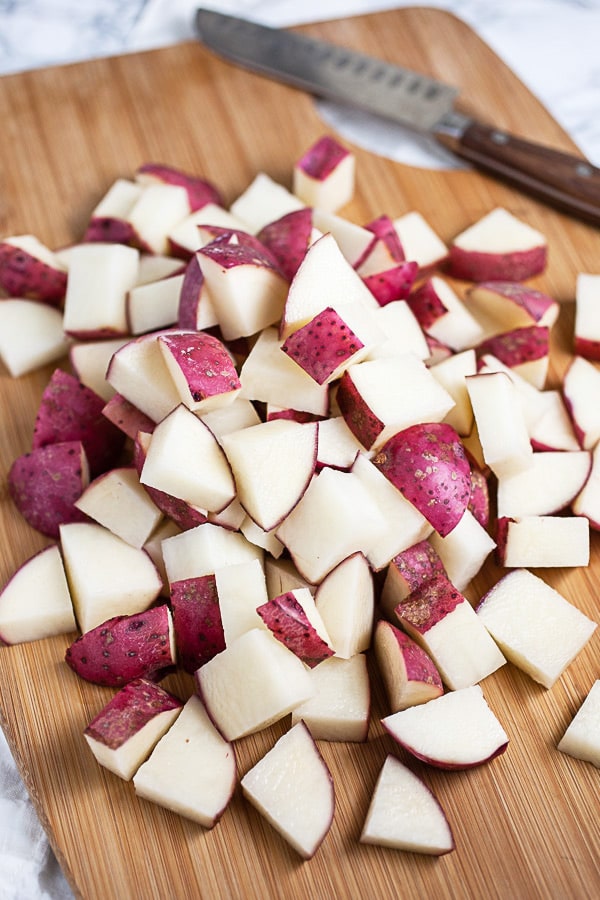 I make roasted vegetables All. The. Time. You can roast any vegetable and it's going to be delicious.
Among my favorites are Parmesan Roasted Cauliflower, Garlicky Roasted Green Beans, and Maple Mustard Roasted Brussels Sprouts.
Recently I made this Roasted Carrot Soup and discovered that roasted carrots are pretty much amazing.
I even roast fruit to make this Roasted Banana Bread. Those roasted bananas take it over the top!
What Type Of Potato Is Best For Roasting?
Technically, Yukon Golds are considered the best for roasting because they have a nice texture and thinner skins.
Any potato that falls under the 'waxy potato' variety is great for roasting. Waxy potato varieties include fingerling, Yukon Gold, new potatoes, and red potatoes.
Red potatoes are my favorite 'All Around' potato - I use them to make everything from Mediterranean Potato Salad to Buttermilk Mashed Potatoes to Potato Corn Chowder.
You can actually use any type of potato you like - Russets are a bit starchier and Fingerling Potatoes are a bit waxier but technically any variety will work so you can use whatever you have on hand.
Feel free to experiment and find your favorite variety!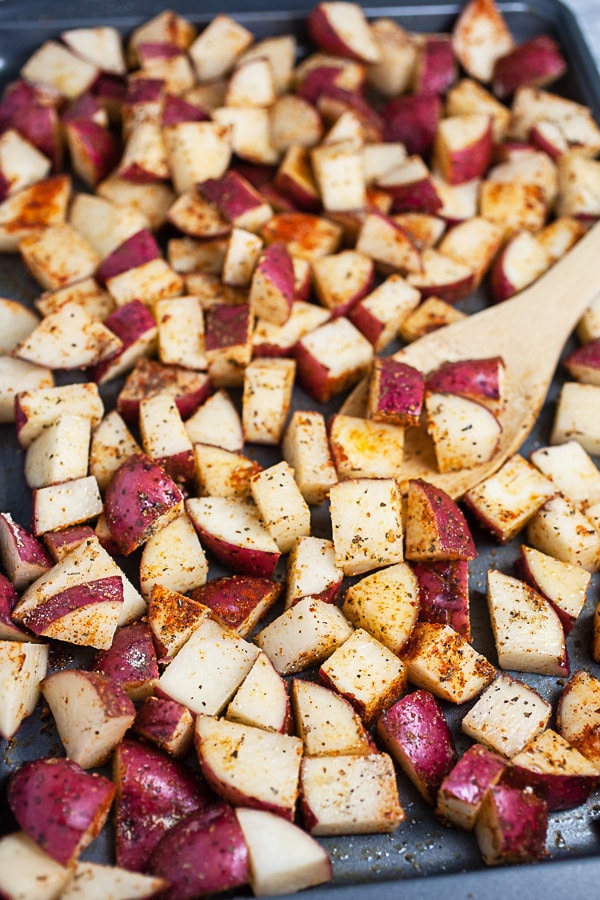 How To Make Herb Roasted Red Potatoes
The first step is to wash the potatoes thoroughly - It's important to remove any excess dirt, bacteria, and pesticides if possible.
Simply run them under warm water and scrub with a vegetable brush for a minute or two. Dry them with a towel when finished.
This recipe calls for 5-6 red potatoes. This yields 5-6 cups of diced potatoes (this may vary depending on the size of the potatoes).
Do I Need To Peel The Potatoes Before Roasting?
It's not necessary to peel the potatoes first as the skins provide great flavor and texture.
Simply dice the potatoes. Try to make sure they are relatively the same size to ensure that they cook evenly.
Here's What You'll Need To Make It: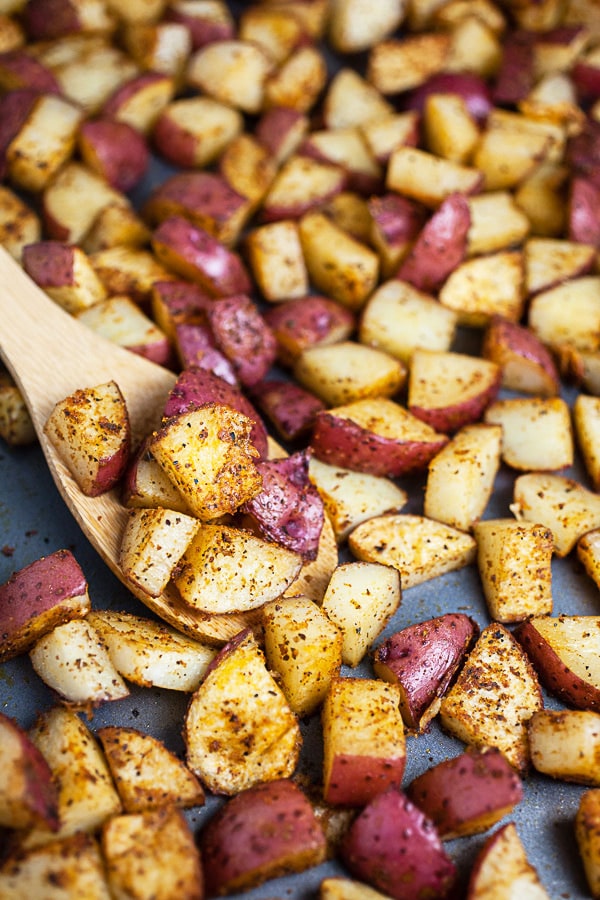 How Long To Cook Herb Roasted Potatoes?
Heat the oven to 400 degrees Fahrenheit.
Place the diced potatoes on a baking sheet. (You may want to use more than one baking sheet depending on how many potatoes you have).
Drizzle 2 Tbsp. of olive oil over the potatoes and sprinkle them with ¼ tsp. kosher salt and pepper. Toss until coated.
Sprinkle 1 tsp. each of garlic powder, onion powder, smoked paprika, and Italian seasoning over the potatoes. Toss until completely coated.
Place the baking sheet(s) in the oven and roast for 24-26 minutes. Remove the pan from the oven at the halfway point and move the potatoes around with a wooden spatula. This will help prevent them from sticking.
Remove the pan(s) after the potatoes have finished roasting.
If sweet potatoes are more your thing be sure to check out these BBQ Sweet Potatoes, Sweet Potato Breakfast Hash, and Savory Mashed Sweet Potatoes!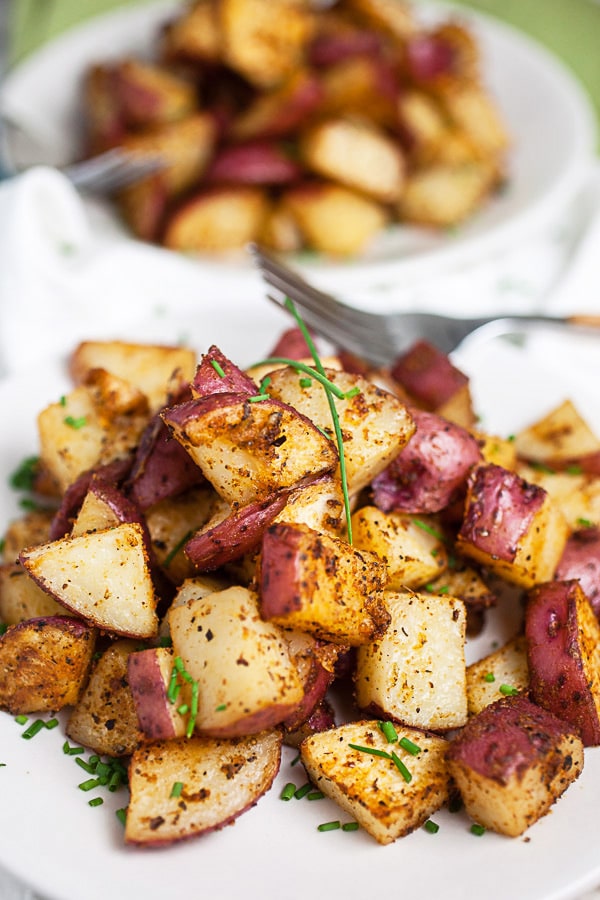 At this point the Herb Roasted Red Potatoes are finished and ready to serve.
It's important to note that cooking times may vary slightly depending on the size of the potatoes and the oven used. I like to check them at the 22-minute mark and continue roasting if they are not quite finished.
The potatoes should be soft (but not mushy) and easily pierced with a fork on the inside in addition to being crispy on the outside. I recommend not over-crowding the pan as this may cause the potatoes to steam and not roast.
To avoid over-crowding the pan simply split the potatoes and all of the other ingredients between two baking sheets.
What Herbs and Spices Go Best With Roasted Potatoes?
Potatoes are one of those great things that lend themselves to so many different flavors. I personally love Italian spices like Thyme, Rosemary, and Oregano with potatoes.
You can never go wrong with the basics like garlic and onion.
Paprika or smoked paprika are great warming spices.
I love to top roasted potatoes with fresh herbs like chives, parsley, or even a little thyme or basil.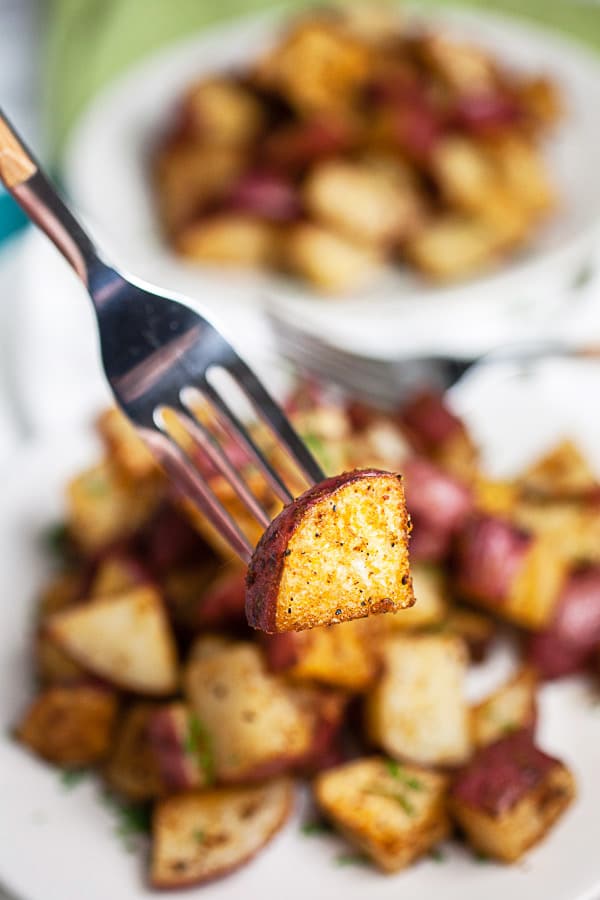 What To Serve With Roasted Potatoes
The flavors in these potatoes lend themselves well to roasted or slow-cooked chicken or beef. They're perfect with Sheet Pan Italian Chicken, Braised Short Ribs, or Instant Pot Pot Roast.
I've also tried them with smoked sausages and found them to be delicious.
They're great with turkey or paired with other roasted vegetables for a vegetarian meal like this Kohlrabi Schnitzel and Easy Roasted Veggie Tacos.
I love to top them with a fried or scrambled egg for a hearty breakfast bowl. You can also add them to a frittata or an egg bake.
Or you could add some black beans and avocado for some Roasted Potato Tacos.
There really is no wrong way to enjoy a dish like this!
For a little extra richness you can sprinkle ½ cup of Parmesan cheese on top 2 minutes before they are finished roasting. Simply pop them in the oven with the Parmesan and let it melt over the top.
If you can't get enough roasted potatoes you'll love these Ranch Roasted Red Potatoes!
If you like potatoes I think you'll love these recipes:
Looking For More Roasted Vegetable Recipes? Don't Miss These!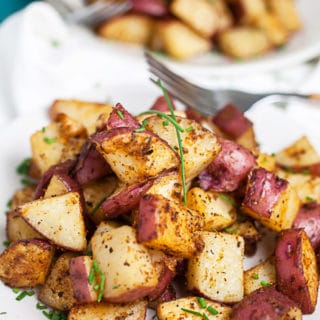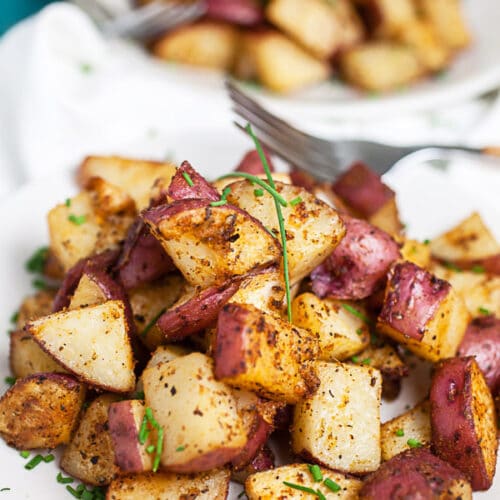 Herb Roasted Red Potatoes
This Herb Roasted Red Potatoes recipe makes the best easy side dish! The potatoes are tossed with oil, Italian herbs, and baked until crispy.
Instructions
Heat oven to 400 degrees Fahrenheit.

Thoroughly wash and scrub 5-6 red potatoes with a vegetable scrubber. Dry them with a towel.

Dice the potatoes making sure they are relatively the same size to ensure even cooking (yields 5-6 cups diced potatoes).

Place the diced potatoes on a baking sheet. You may need two baking sheets depending on its size. It's important not to crowd the potatoes or they will steam instead of roast.

Drizzle 2 Tbsp. or so of olive oil over the potatoes. Make sure the potatoes are coated but not saturated in the oil. Sprinkle ¼ - ½ tsp. of kosher salt and pepper over the potatoes and toss until coated. (You can adjust salt and pepper levels to your liking).

Place the baking sheet(s) in the oven and roast for 24-26 minutes. Remove the pan and toss the potatoes around at the 10-minute mark to ensure that they don't stick. The inside of the potatoes should be soft but not mushy and the edges crispy when finished.

Optional: Sprinkle ½ cup grated Parmesan cheese over the top 2 minutes before finished roasting and allow cheese to melt before removing from oven. Garnish with fresh herbs of choice.
Notes
This recipe can be doubled if serving a crowd. Simply use another baking sheet if doubling to ensure that there is enough room for the potatoes.
The Parmesan cheese and fresh herb toppings are optional. If you'd like to keep this recipe vegan do not add Parmesan cheese.
You can use any type of potato you like but Yukon Golds and Red Potatoes are great for roasting.
Nutrition
Serving:
2
cups
Calories:
318
kcal
Carbohydrates:
47
g
Protein:
10
g
Fat:
11
g
Saturated Fat:
3
g
Cholesterol:
9
mg
Sodium:
610
mg
Potassium:
1306
mg
Fiber:
6
g
Sugar:
4
g
Vitamin A:
744
IU
Vitamin C:
23
mg
Calcium:
206
mg
Iron:
3
mg