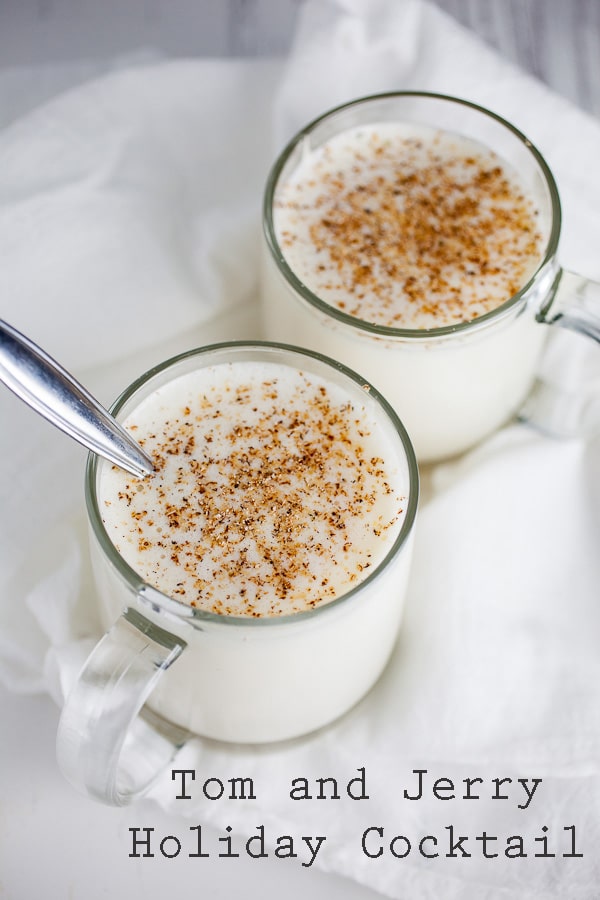 The Tom and Jerry is a family tradition for me. Any holiday get together that occurs this time of the year includes my uncle whipping up a batch of Tom and Jerry batter and quietly slipping a coffee cup full of this freshly mixed cocktail into your hand. We sit around a big table and swap stories, eat snacks, sip on Tom and Jerry's, and laugh. What is a Tom and Jerry? It's an old fashioned winter cocktail that's full of rum and brandy. I'm not sure if the Tom and Jerry is a 'my family' thing, or a small town thing, or a Midwestern thing because most people I've talked to have never heard of it. I managed to get my uncle to share his recipe with me. It's taken from an old bartender's guide. It kind of feels like some 'ancient knowledge' has been shared with me and I'm here to share it with you. This is a fine cocktail – it's warm, a little sweet, and tastes like nostalgia.
The first step is to make the batter. The batter includes eggs, powdered sugar, baking soda, and rum. Apparently no two Tom and Jerry recipes are the same – every recipe I found online was a little bit different. Most recipes called for the eggs to be separated. But, I'm sticking with tradition here and following the recipe as directed. Using a KitchenAid mixer or hand mixer, beat 2 eggs thoroughly. The next step is to add the powdered sugar in stages. Start with 1/2 cup and mix until combined. Scrape any excess powdered sugar into the bowl and then add another 1/2 cup of powdered sugar and continue mixing. Scrape the sides of the bowl again and add 1/4 tsp. baking soda and 1/2 oz. of rum to the batter. Continue mixing and then add another 3/4 cup of powdered sugar. The goal is to add enough powdered sugar to stiffen the batter. According to the recipe, 'it will seem like a lot'. Place the batter in the fridge until needed.
The secret to a good Tom and Jerry 'is a warm mug and stiff batter'. So, the next step is to heat the mug with hot water. You can use the microwave or heat the water in a tea kettle. Pour the hot water into the mugs and let them sit for a few minutes. You can use any kind of mug you like. A regular coffee mug or glass cocktail mug will work. Apparently, you can find vintage Tom and Jerry punch bowls with matching cups online. Or, you can find them by raiding your grandparents' kitchen cupboards. Either way…
The next step is to heat the milk. Again, you can use the microwave or heat it in a saucepan on the stove top. Empty the mugs of the hot water that has been keeping them warm and add a healthy Tbsp. of the batter to it. You can add more batter if you like a sweeter drink. 1 Tbsp. will make a 'semi sweet' drink. I don't care for super sweet drinks, so 1 Tbsp. is perfect for me. Dissolve the batter in 3 Tbsp. of hot milk.
Now for the hard stuff. Don't let this innocent looking drink fool you – it packs some serious punch! To the dissolved milk and batter, add 1 oz. of rum. Then fill the glass with hot milk, leaving a little room at the top. Add 1/2 oz. of brandy to top off the drink.
The last step is to sprinkle with nutmeg. I recommend grating fresh nutmeg if you can, but regular nutmeg will work just fine. Add a good amount to the drink because why not? Nutmeg is delicious.
That's all there is to it. We sat around for years sipping these things wondering what the secret was. I think every small town in the Midwest has some kind of 'gatekeeper' who holds the recipe. A lot of small town bars serve Tom and Jerry's on Christmas Eve and only Christmas Eve. There's one guy in town who makes the batter, gives it to the bar, and families like mine wander uptown and then stumble home afterward. It's a lovely tradition. And now you can make it part of yours.
Tom and Jerry Holiday Cocktail
An old fashioned Tom and Jerry holiday cocktail recipe that's brimming with rum, brandy, and topped with fresh nutmeg. Sure to be the hit of your party!
Ingredients
2

eggs

1 3/4

cup

powdered sugar

1/4

tsp

. baking soda

1/2

oz

. rum

Hot milk

Hot water

Rum

Brandy

Nutmeg - freshly grated if possible
Instructions
For the batter
Beat eggs thoroughly using a KitchenAid or hand mixer. Add 1/2 cup powdered sugar and mix. Scrape sides of bowl and add another 1/2 cup powdered sugar and mix.

Add baking soda and 1/2 oz. rum to the batter and mix.

Add another 3/4 cup of powdered sugar and beat until stiff.

Place in fridge until needed.
For the drink
Heat glasses with hot water.

Once heated, discard hot water and add a healthy Tbsp. of the batter along with 3 Tbsp. hot milk. Dissolve batter in milk.

Add 1 oz. rum and stir.

Add more hot milk, leaving room on top.

Top drink off with 1/2 oz. brandy.

Grate or sprinkle nutmeg on the top of the drink.
Recipe Notes
This should make enough batter for 10-15 drinks. Use more or less batter depending on your desired sweetness level.