These gluten free Old Fashioned Pancakes are thick and fluffy! They're made from scratch and perfect served with maple syrup for breakfast.
There is nothing better than a plate full of light and fluffy Gluten Free Pancakes topped with maple syrup along with a hot cup of coffee.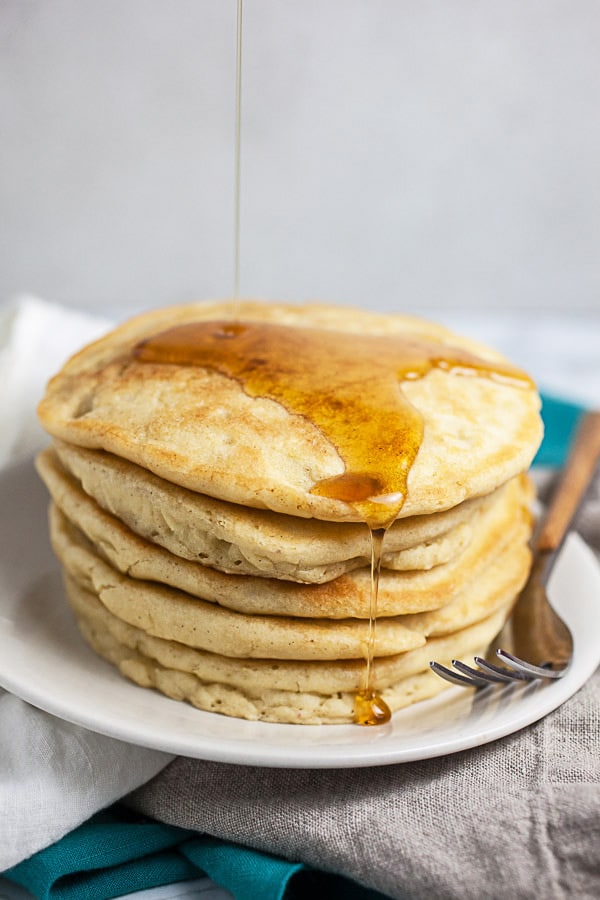 I have a serious weakness for semi-sweet breakfast-y items like pancakes, waffles, and quick breads. I will take a freshly baked muffin over a cupcake any day of the week.
What makes this recipe and those like it 'old fashioned', exactly? It's one of those things that doesn't change much over time. This recipe is adapted from one I found in an old church cookbook many years ago and have been making ever since.
Old fashioned recipes are ones that your grandparents probably enjoyed when they were young and that you still enjoy today. There was nothing wrong with them to begin with so there's no real need to alter them in any way.
Like all good things in life recipes like these Gluten Free Pancakes are timeless.
Jump to: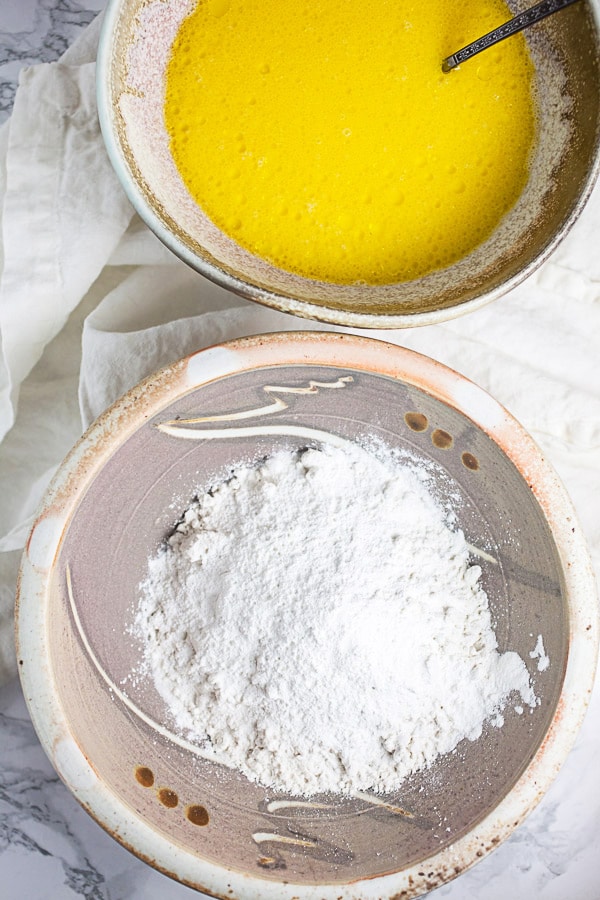 How To Make Gluten Free Pancakes From Scratch
It can be tempting to prepare pancakes from a box but a little extra effort yields big results. Boxed pancakes don't hold a candle to homemade ones.
The same goes for things like these Pumpkin Waffles, Banana Muffins, Rhubarb Muffins, and Rhubarb Bread but those are recipes for another day...
This recipe starts by separating the wet and dry ingredients into two mixing bowls.
Ingredients For Gluten Free Pancakes
Here's what you'll need to make them.
What Is The Best Gluten Free Flour For Pancakes?
This recipe uses a gluten free flour blend (I love Bob's Red Mill 1 to 1 Flour). Any gluten free flour blend, such as Cup 4 Cup or Measure For Measure should work just fine.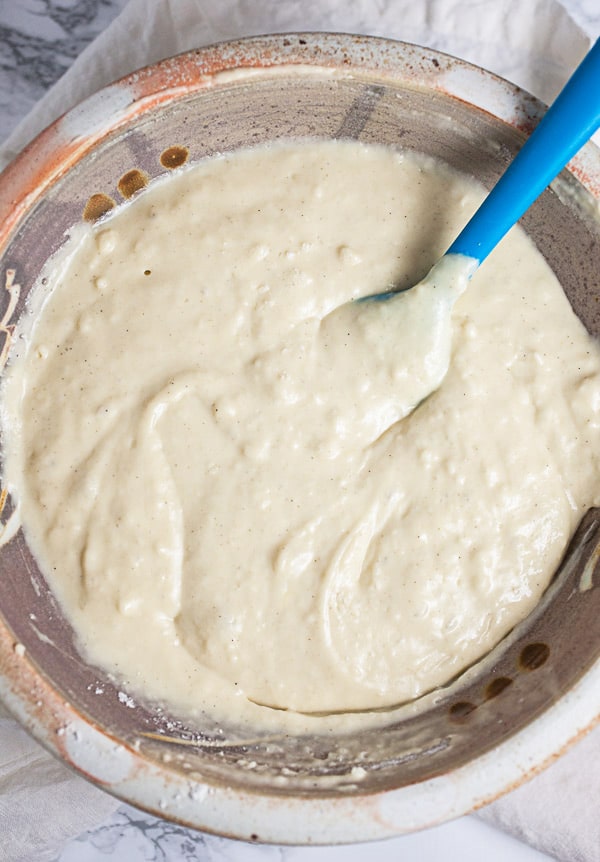 How To Make Pancakes Fluffy
In one mixing bowl add 2 ½ cups Gluten Free Flour Blend (or 2 cups AP flour), 2 Tbsp. sugar, 4 tsp. baking powder, and a pinch of kosher salt. Stir until completely combined.
In a separate bowl add 2 eggs, 1 ¼ cup milk (or non-dairy milk substitute), and ¼ cup olive oil. Stir until completely combined.
Slowly add the wet ingredients to the dry a bit at a time. Stir the wet ingredients into the dry just until combined. Try not to over-mix the batter.
I've found that the trick to fluffy pancakes is a good amount of baking powder (this recipe calls for 4 tsp.). All that baking powder really makes these things nice and fluffy!
The other trick is not to over-mix the batter. This can cause the batter to become tough instead of light and airy. This is definitely the case for regular All-Purpose Flour but also important when it comes to gluten free flours.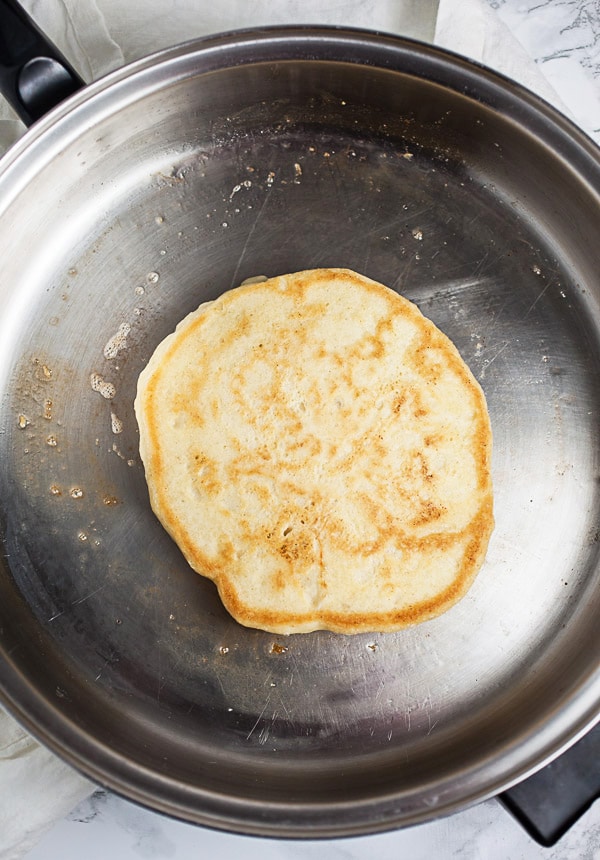 How Long Do Pancakes Take To Cook In The Skillet?
I like to cook old fashioned pancakes in a skillet on the stove top but a pancake griddle works great as well.
Heat the skillet or griddle to somewhere between medium-low and medium and melt some butter on the surface making sure it's coated in order to prevent the pancakes from sticking.
Pour ¼ cup or so of the batter into the skillet. The batter will likely spread a bit. You can cook the pancakes one at a time or fit as many as you like in the skillet. (Just be sure not to over-crowd it or flipping them becomes difficult).
Cook the pancakes for 3-5 minutes on the first side. Cooking times may vary depending on the temperature of your stove top or griddle and the type of skillet you are using. I like to wait until little bubbles form in the pancakes and then flip them.
Cook the pancakes for an additional 2-3 minutes on the second side after flipping.
Repeat with the remainder of the batter adding more butter to the skillet each time to prevent sticking.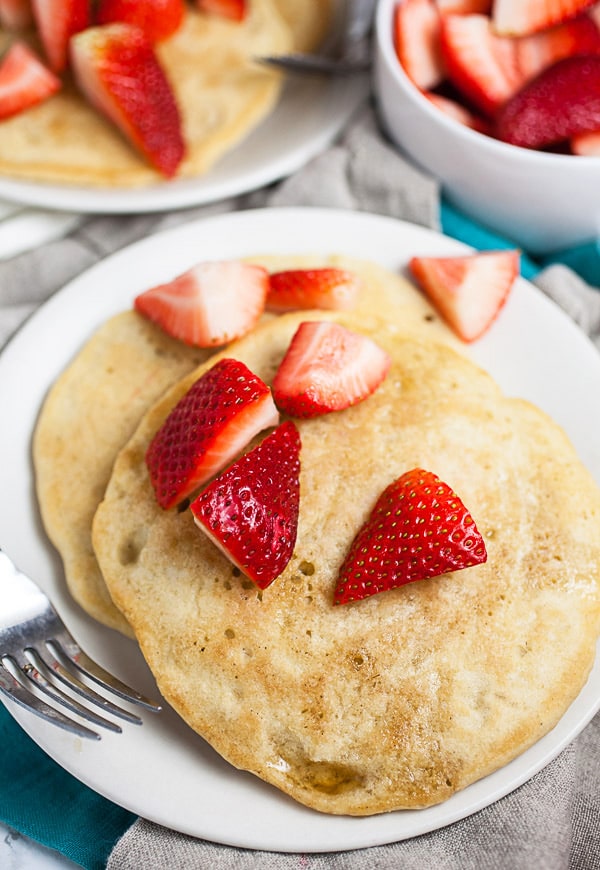 What To Serve With Old Fashioned Pancakes
If you ask me it's illegal to serve pancakes without butter and maple syrup. But, of course, you can top them any way you like!
Fresh berries or fruits are always a great addition to a stack of freshly made Old Fashioned Pancakes. Strawberries, raspberries, or blackberries are all tasty options.
I also love bananas with semi-sweet bread-y treats like this. Be sure to check out these Old Fashioned Banana Pancakes or Coffee Infused Banana Bread and Roasted Banana Bread if you love bananas!
A sprinkle of cinnamon or nutmeg is delicious sprinkled on top as are nuts like walnuts, pecans, or almonds.
Greek yogurt or yogurt with honey is another healthy topping as well as peanut butter or any type of nut butter.
If you want to go more the dessert route you can always top them with chocolate chips, chocolate hazelnut spread, or whipped cream.
I'm a big fan of the sweet/salty flavor combo so serving them with a more savory breakfast item like these Sweet Potato Breakfast Bowls, Ham, Cheese, and Asparagus Frittata, Denver Omelette Egg Cups, or Sweet Potato Breakfast Hash is definitely a winner.
And for more breakfast recipes on the sweeter side don't miss this Apple Cinnamon Streusel Muffins, Eggnog French Toast, Skillet Cardamom French Toast, and Greek Yogurt Oatmeal Cups!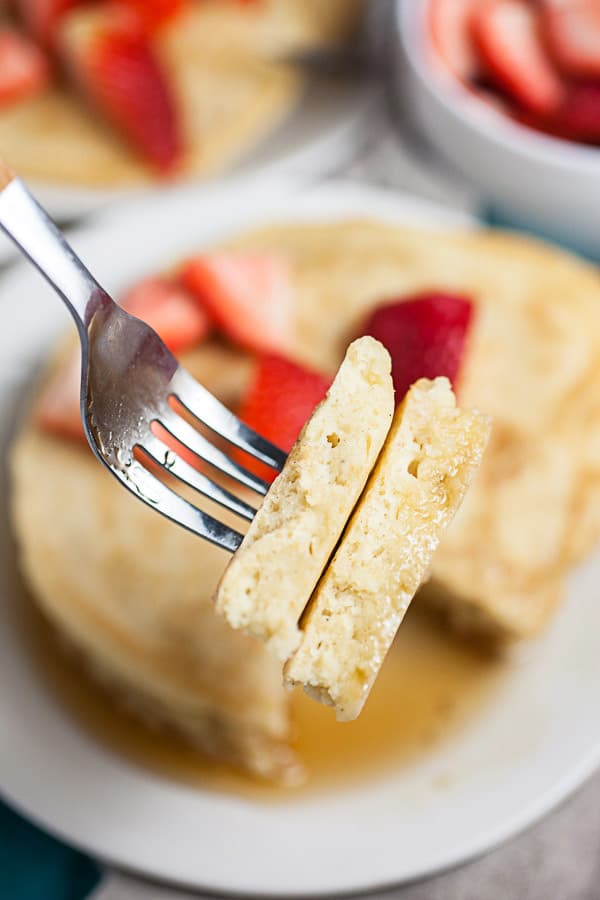 Do Pancakes Freeze Well?
You can certainly cut this recipe in half if you do not need this many pancakes but if you find that you have leftover batter it can be stored in an airtight container in the fridge for 1-2 days.
You can also store cooked pancakes in the freezer and save them for later!
How To Freeze
Prepare the pancakes as written, making sure they are fully cooked.
Arrange them in a single layer on a baking sheet and place the baking sheet in the freezer for about an hour.
Place a layer of wax or parchment paper between each pancake, place the pancakes in a heavy-duty freezer bag, and label with the date. They should last up to 2 months in the freezer.
How To Thaw
The pancakes may be reheated in the microwave or on a baking sheet in an oven heated to 350 degrees Fahrenheit for 10-15 minutes.
For more old fashioned recipes be sure to check out these Baked Lemon Doughnuts, Old Fashioned Blueberry Buckle, Scandinavian Almond Cake, and Pumpkin Coffee Cake!
Looking For More Breakfast Recipes? Don't Miss These!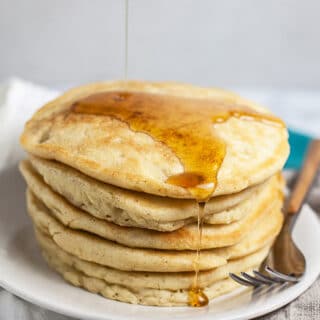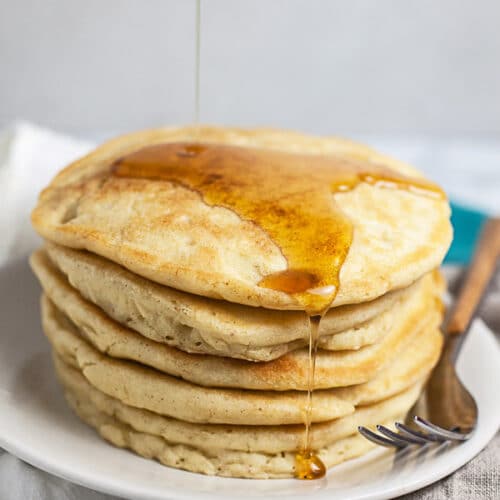 Old Fashioned Pancakes (Gluten Free)
These gluten free Old Fashioned Pancakes are thick and fluffy! They're made from scratch and perfect served with maple syrup for breakfast.
Ingredients
2 ½

cups

gluten free flour blend

OR 2 cups AP flour if not GF

2

Tbsp.

sugar

4

tsp.

baking powder

pinch

salt

2

eggs

1 ¼

cup

milk

or non-dairy milk substitute

¼

cup

olive oil

2

Tbsp.

butter to melt in skillet

or non-dairy butter substitute

Toppings such as maple syrup, berries, or nuts (optional)
Instructions
Add 2 eggs, 1 ¼ cups milk, and ¼ cup olive oil in a separate mixing bowl. Stir until completely combined.

Slowly add the wet ingredients to the dry ingredients, stirring to combine. Continue until all the wet ingredients are added to the dry ones. Stir just until combined, careful not to over-mix. Batter will be lumpy.

Cook the pancake for 3-4 minutes or until it starts to form bubbles. Flip the pancake and cook for another 2-3 minutes or so on the other side. The pancakes should be golden brown.

Repeat with the remaining pancake batter.

Make sure to watch the temperature of the stove top so that the pan does not get too hot. Simply reduce heat if the pancakes begin to burn.

To Serve: Finish with your choice of toppings such as butter, maple syrup, fresh fruits, yogurt, nuts, or yogurt (optional).
Notes
Recipe may be cut in half if fewer pancakes are needed (recipe makes between 5-6 pancakes).
Leftover batter may be stored in an airtight container in the fridge for 1-2 days.
Cooked pancakes may be frozen (see content above for instructions).
Cooking times may vary depending on the thickness of the pancakes.
Nutrition
Serving:
1
cup
Calories:
362
kcal
Carbohydrates:
46
g
Protein:
9
g
Fat:
18
g
Saturated Fat:
5
g
Cholesterol:
71
mg
Sodium:
85
mg
Potassium:
433
mg
Fiber:
5
g
Sugar:
10
g
Vitamin A:
301
IU
Calcium:
253
mg
Iron:
2
mg