Minced: A Friendly Cooking Competition views a cooking challenge as a food blogger. The event is based on the Food Network show 'Chopped'.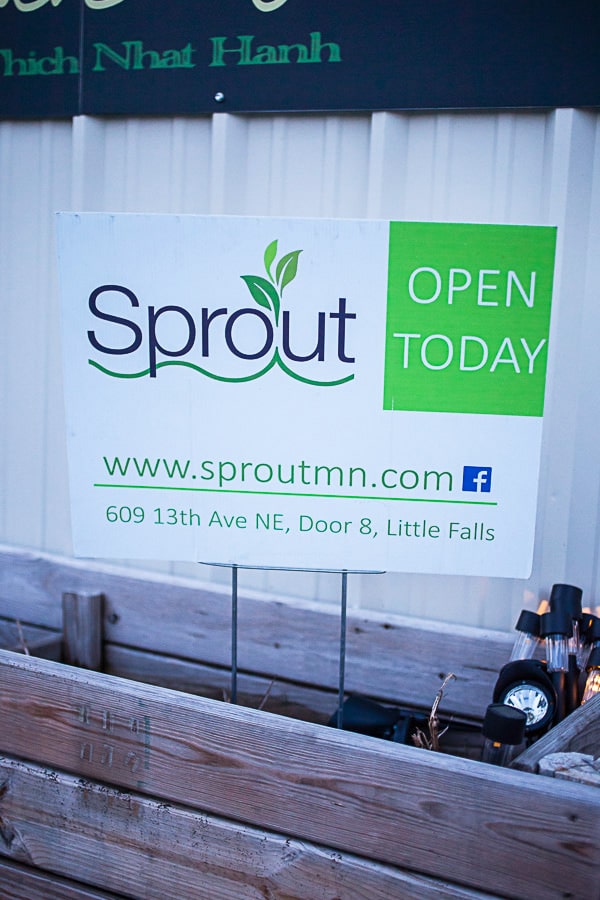 A few weeks ago I was able to check out a local cooking competition wherein three chefs from around the state of Minnesota were pitted against each other in a live cooking event based on the Food Network show 'Chopped'.
The competition was titled Minced: The Finer Version of Chopped and was held at Sprout, MN - A Marketplace, Food Hub, and Kitchen that focuses on building stronger communities through farming, food, and cooking located in Little Falls, MN.
This sounded like a pretty interesting way to spend a Friday evening so my husband and I made the trek up north to check out the Sprout facilities and this friendly cooking competition that promised to be both entertaining and informative.
The Minced Competition was indeed both of those things and more. It was vibrant, energetic, and downright exciting.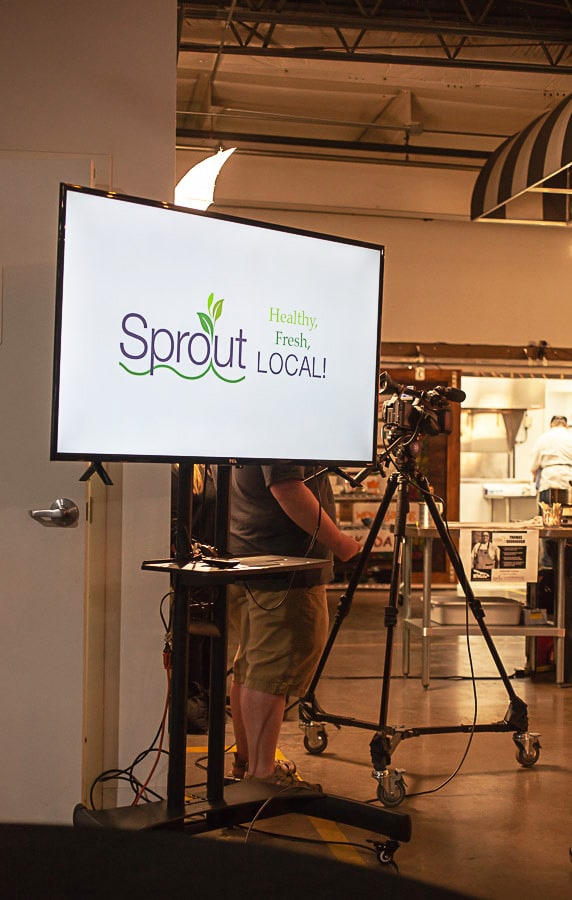 Sprout, MN is located in an old Crestliner boat manufacturing facility and warehouse that has been converted into a 'Growers & Makers Marketplace' The venue provides a location for local food producers and artisans to sell their products in a year-round space.
It is also home to a commercial kitchen where local businesses can prepare their goods for sale and consumption. This is fantastic for small businesses that are starting up and don't yet have the means to invest in expensive kitchen facilities.
The Sprout kitchen was converted into the 'Sprout Kitchen Stadium' the night of the Minced competition. The place was buzzing with camera crews, lights, screens, reflectors, and a general sense of chaos.
It honestly felt a lot like being on the set of the show 'Chopped' (which was exciting for me because I love that show)!
Local photographers, videographers, and TV stations were invited to document the event in addition to it being filmed for a live audience. Camera and video crews wandered the stadium searching for the best shot.
The fact that the event was live added an intense energy that was felt by the competitors, those documenting it, and the audience alike.
Two hosts narrated the entirety of the event and basically kept the whole thing moving.
Talking in front of a live audience for, like 4 straight hours sounds nearly impossible to an introvert like me so I had to hand it to the hosts - That takes some serious skill and endurance!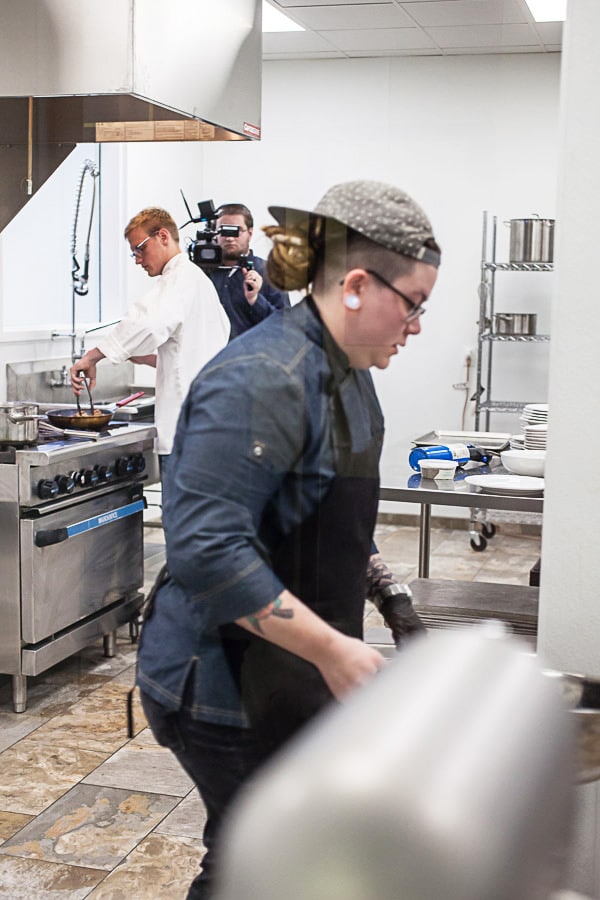 Three chefs from around the state participated in the Minced competition: Thomas Kavanaugh of the Pillager High School ProStart Program, Jenna Brower Von Siebolds of Prairie Bay Grill in Baxter, MN and Matéo Mackbee of Model Citizen The Restaurant in New London, MN.
Each chef brought their own unique philosophy and culinary techniques with them to the competition.
Much like the show Chopped a series of mystery basket ingredients were introduced and each chef was required to utilize them in three different rounds - Appetizer, entrée, and dessert.
The ingredients at this year's competition were of East African origin. This was to emphasize Minnesota's growing cultural and culinary landscape. Ingredients included goat meat, golden raisins, and a Somali spice blend.
A panel of judges were assembled and were assigned the task of tasting the dishes that each chef prepared after each round and in the end decided the winner of the competition.
Each judge was able to offer feedback on the dishes before decided who was 'Minced'. It must have been difficult because every dish looked and smelled pretty stellar.
The judges also received gift baskets with products made by local artisans - some of which started up in the Sprout facility. There were handmade soaps, chocolate, jams, syrups (yeah, I was totally eyeing those baskets).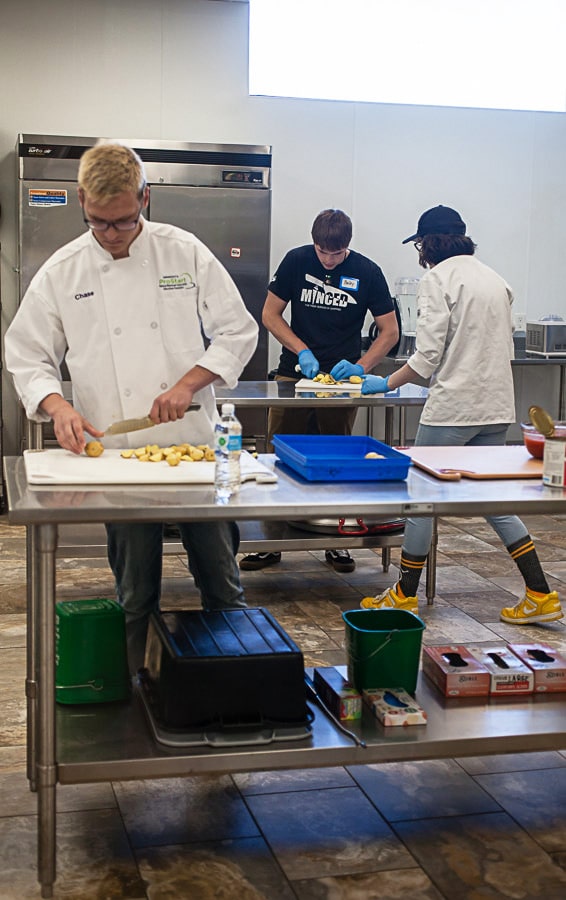 True to its mission of community outreach and engagement Sprout invited a number of area high school students all of whom are part of the ProStart program to be part of the Minced competition.
ProStart is a two-year program aimed at high school students who are interested in learning more about cooking and the culinary world by providing a chance to grow and practice their skills.
Each chef was assigned a few ProStart students and audience members were able to check out some of the action as these sous chefs prepped ingredients and helped out behind the scenes.
They were an invaluable part of the process. Click here to learn more about ProStart!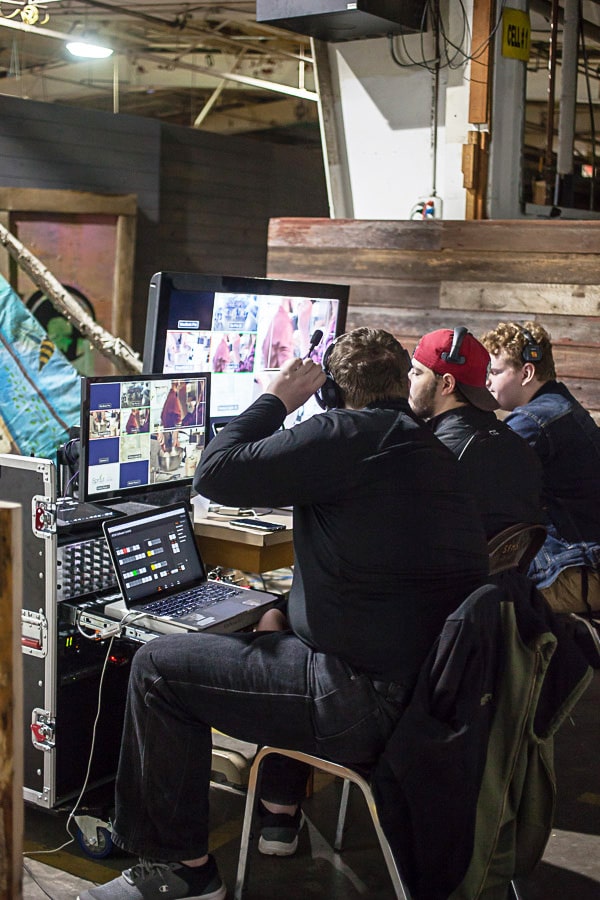 You can't run a live televised competition like this without a crew working behind the scenes to hold it all together and make it look pretty. It's not always the most glamorous job but it's definitely an important one.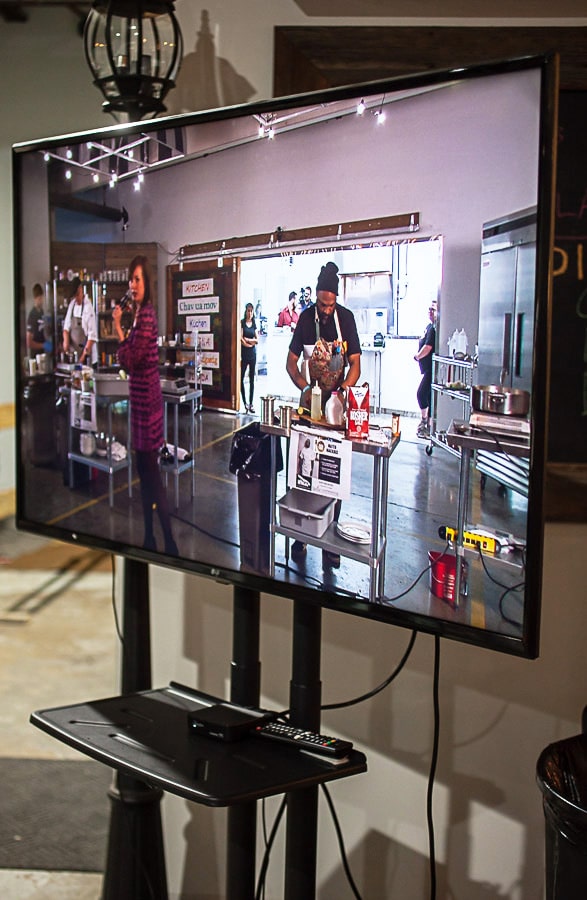 All three of the invited chefs participated in the first two rounds of the competition - The appetizer and entrée. One was eliminated after the second round and the two remaining duked it out in the dessert round.
The audience voted for their favorite chef and the winner with the most votes received the People's Choice Award. That award went to chef Jenna Brower Von Siebolds.
The winner of the Minced competition went to chef Matéo Mackbee. This was exciting to witness for my husband and I as we are friends of Matéo and are frequent visitors of his restaurant.
All in all, it was a friendly competition that supported a good cause - To get community members interested and engaged in the cooking process, to celebrate the diverse food culture of small town Minnesota, and to drive awareness of the importance of small-scale farming and locally sourced goods and products.
As a member of a small town community I was happy to see all the opportunities in and around this region and as a lover of food I was encouraged to witness the curiosity and excitement of the audience. And as a fan of the show 'Chopped' I just thought it was pretty awesome.