These Salted Caramel Chocolate Shortbread Bars are a decadent dessert bar recipe featuring crunchy shortbread, caramel, chocolate ganache and sea salt.
This post was sponsored by the French Ministry of Agriculture but the thoughts and opinions expresed here are my own.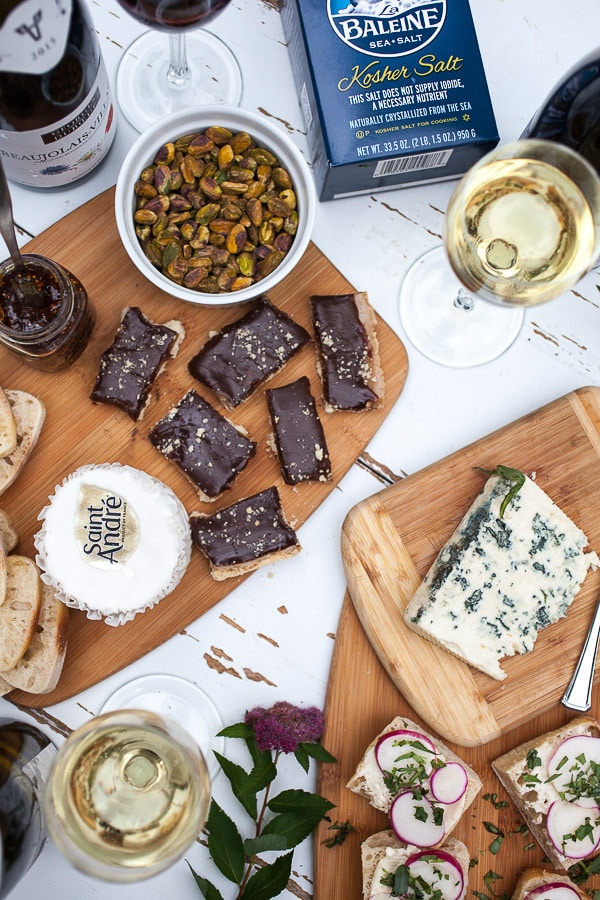 Last week a few friends and I decided to celebrate summer the French way - With some joie de vivre.
We gathered at their lake place to drink French wine and eat snacks made with French cheese and sea salt. We listened to French music, grilled vegetables, and chatted by the lake as the sun went down (until the mosquitoes drove us inside, of course).
This French feast was topped off with Salted Caramel Chocolate Shortbread Bars. The wine, cheese, salt, and chocolate made for a perfect flavor combo.
Sometimes you just have to look around and appreciate the beauty of the landscape in the company of good friends while sipping wine and eating chocolate. Definitely while sipping wine and eating chocolate.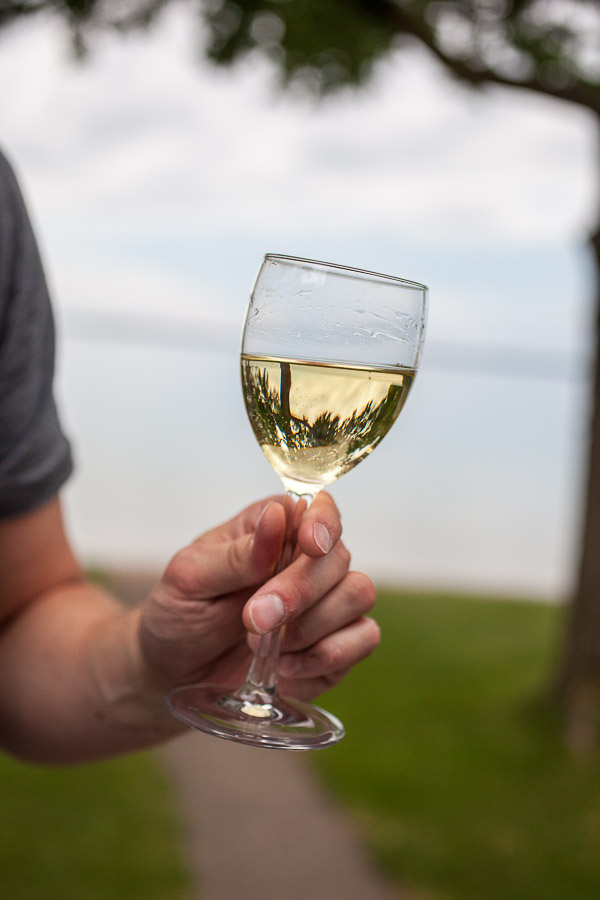 The first of our wines came from the Beaujolais region of France. This Georges Duboeuf Pouilly-Fuissé 2015 is super easy to drink - Either on its own or paired with something like blue cheese.
This chardonnay is full of crisp flavors like green apple and green grape. It finishes crisp and dry. The Pouilly-Fuissé region is known for offering white wines that are of incredible value compared to wines of comparable quality.
This is truly a wine to celebrate summer.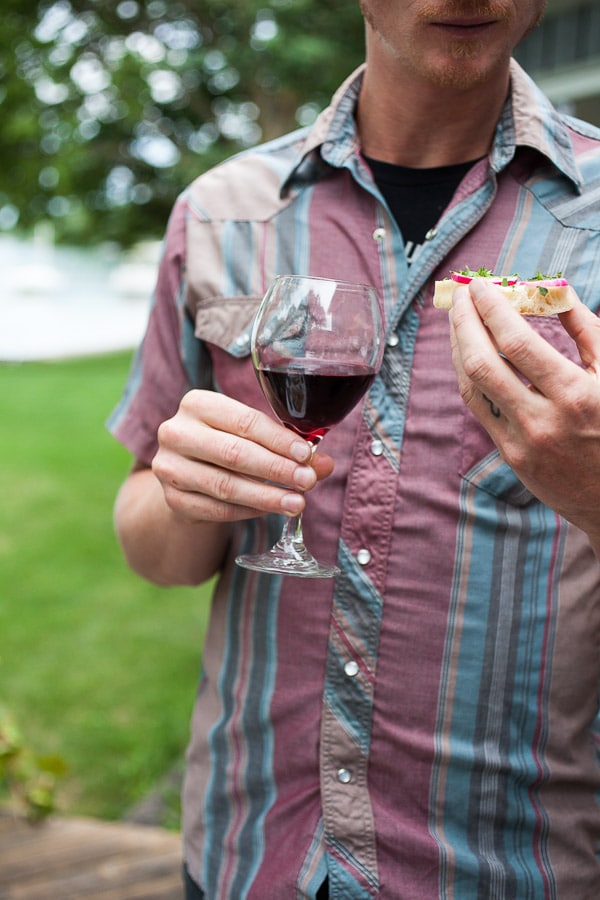 This George Duboeuf Beaujolais-Villages 2015 is made from 100% Gamay grapes. It's very light-bodied for a red wine. This wine feels a little younger - It's floral but not sweet and someone picked up flavors of dandelion.
I'm normally into the heavier, old-vine, deeper reds but I was pleasantly surprised by how easy this wine is to drink. It's similar to a Pinot Noir and that makes it perfect for summer drinking.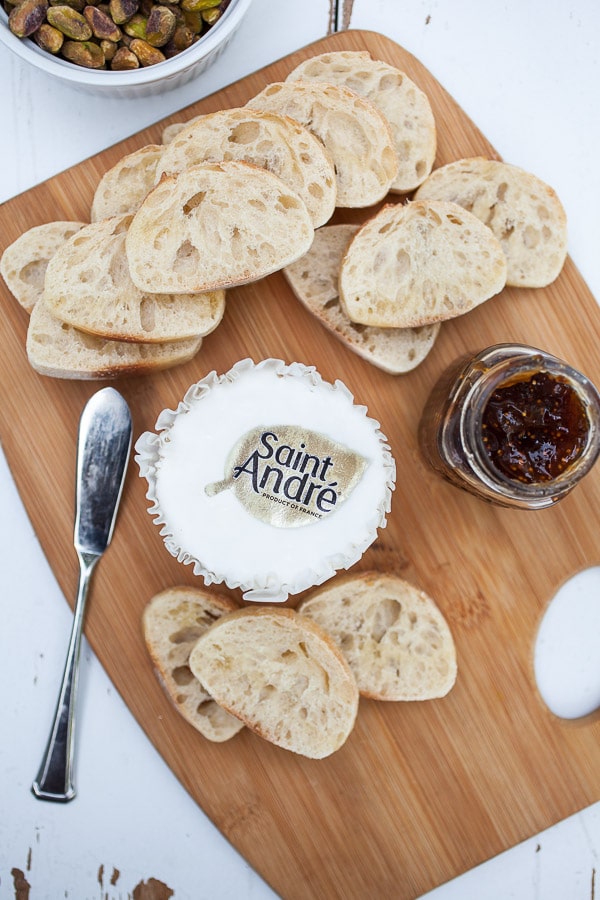 You cannot have French wine without some French cheese - It's like, French law or something. This Saint André is a triple cream cheese from the Normandy coast. It is known as 'the heavenly cheese' and it definitely lives up to its name.
It's so smooth and easy to eat (I think the entire thing was gone in an hour). I personally enjoy cheese like this spread on a toasted crostini but you can combine it with something sweet and tart like a fig spread.
It pairs well with lighter wines, beers, and even champagne.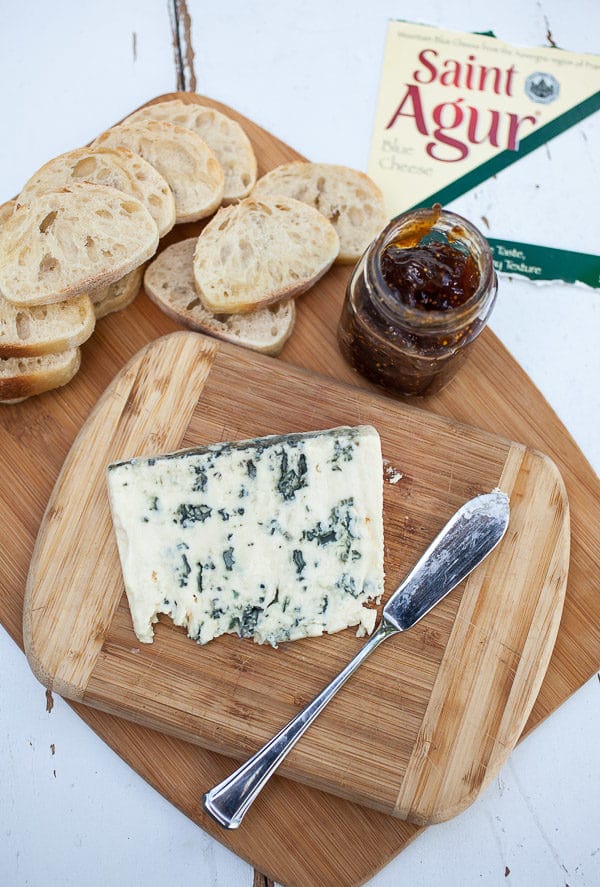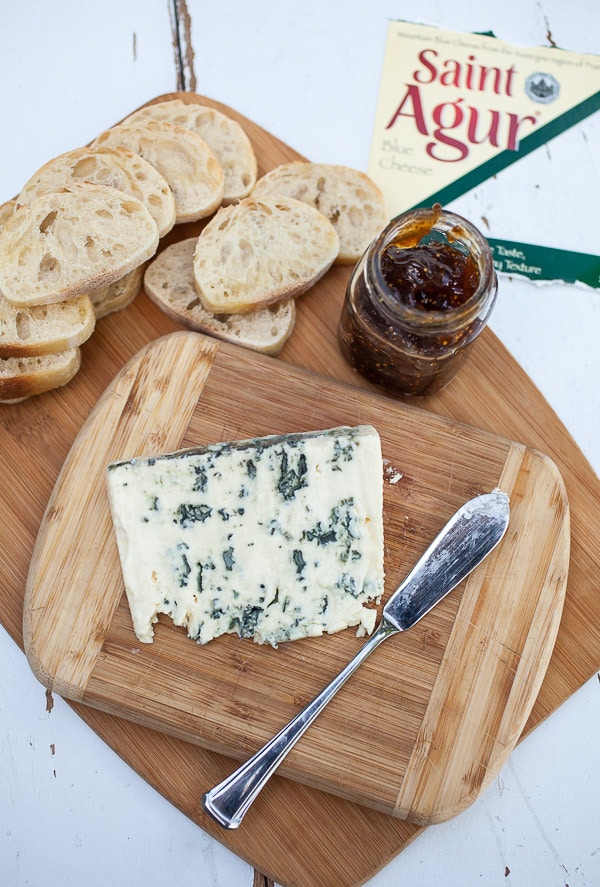 And because two varieties of cheese are better than one - we also enjoyed this St. Agur blue cheese from Auvergne. I am a blue cheese fanatic so I was super excited about this one. This St. Agur is made from cow's milk which makes it extra creamy.
There is nothing like a blue cheese made in France. This is how blue cheese was meant to taste.
Give me a glass of deep, rich, old-tasting red wine and some creamy aged blue cheese and I'm a happy gal.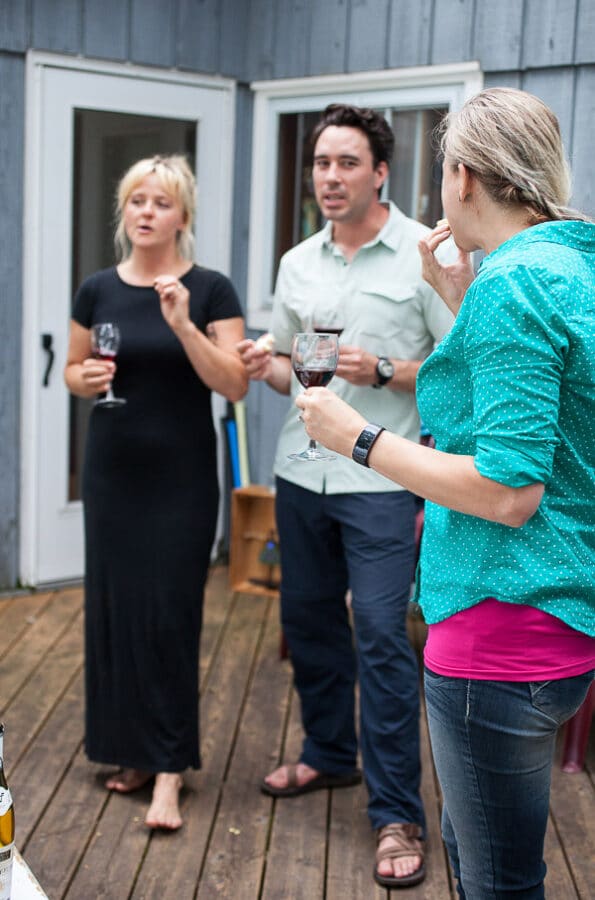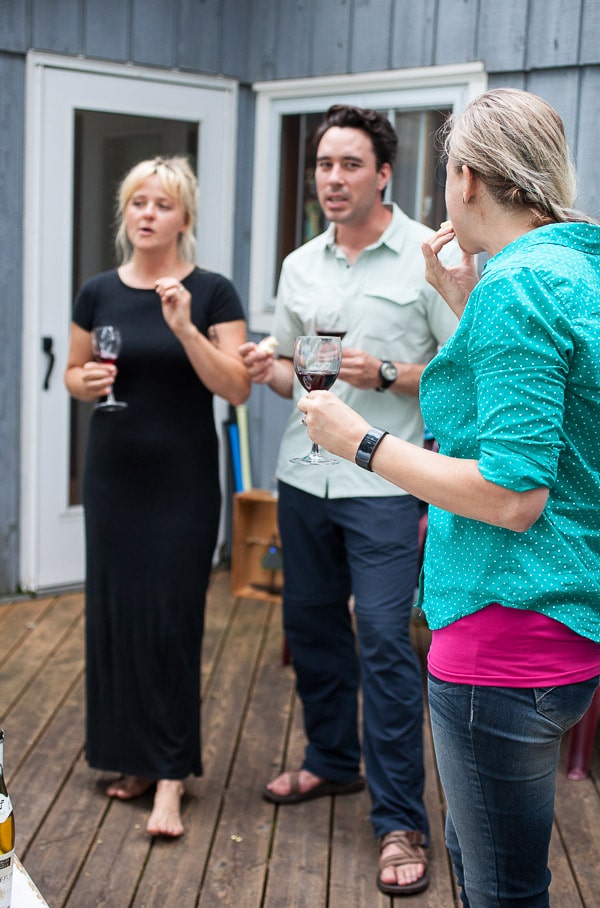 The third wine was a Marie de Beauregard Chinon 2015 Cabernet Franc from the Loire Valley. This Cab Franc has that old-forest feel. It's earthy as well as fruity. There are dark berry notes and a woody aftertaste.
This wine was a hit all-around. It's the perfect compliment to a cheese tray or a chocolate-y dessert.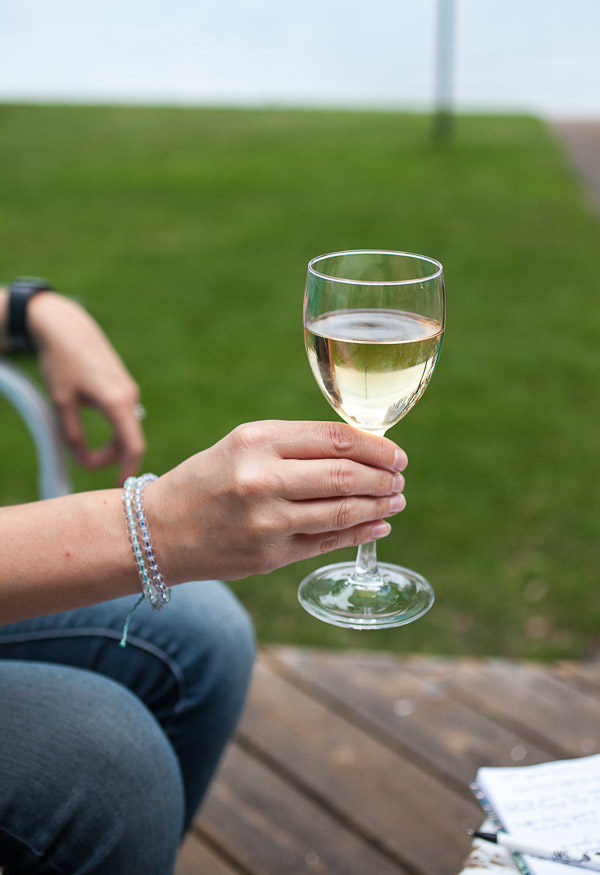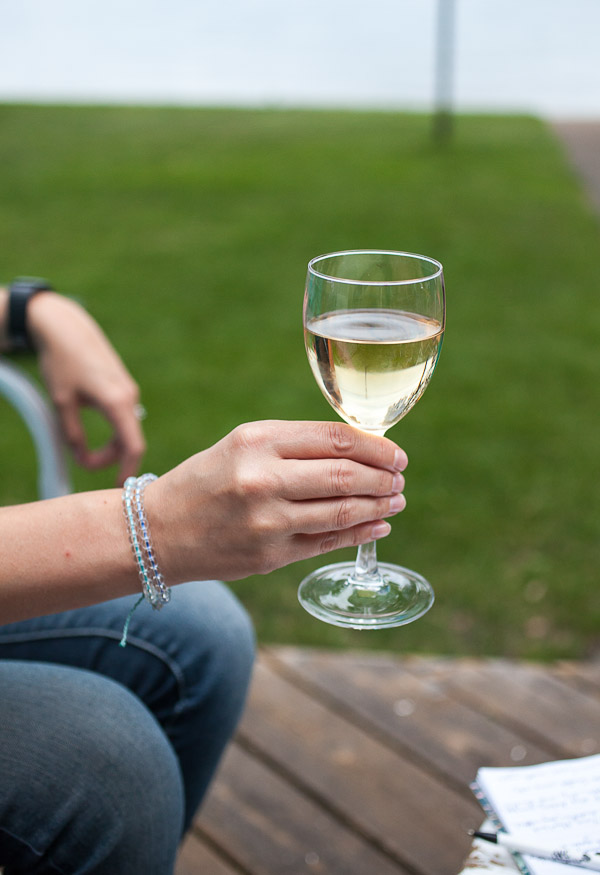 Next up is the Marie de Beauregard Vouvray 2015. This 100% Chenin Blanc is another from the Loire Valley. This wine is truly smooth and silky. It kind of tastes like summer - Light, sweet but not too sweet, and fresh.
French wines tend to be very balanced and this one is no exception.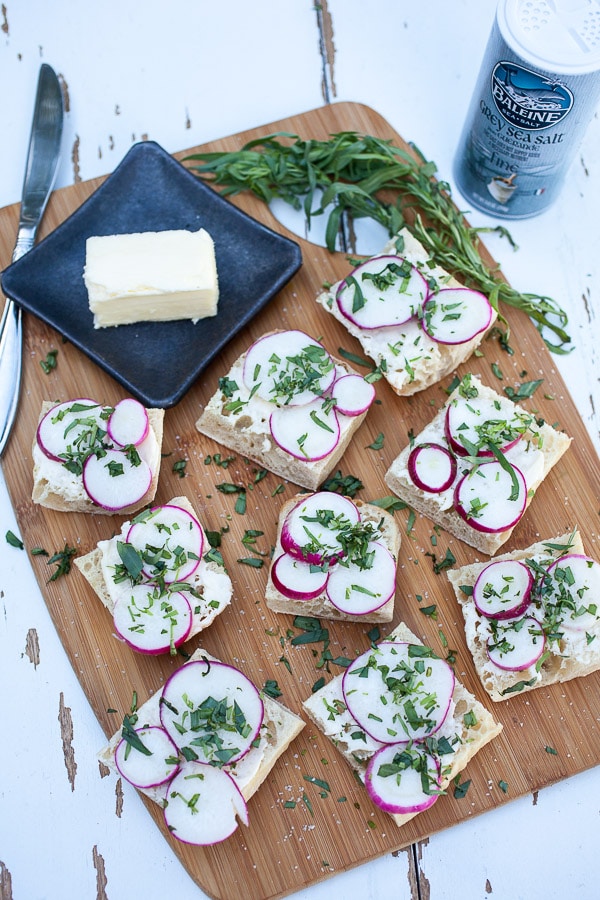 No party is complete without a salty snack of some kind. These Buttery Radish Sea Salt Toasts are just the thing for your next French get-together. It might seem like a strange combination but trust me - These toasts are awesome!
I topped them off with La Baleine fine grey sea salt from the Guerande region of France. This stuff is hand-harvested, totally natural, and completely sustainable. And best of all it's now available in the U.S.! I highly recommend picking some up and trying it out on your next dish.
How To Make Radish Toasts
Heat oven to 350 degrees.
Slice baguette into small toast-size pieces and place on a baking sheet. Drizzle with olive oil and bake for 5 minutes or until slightly golden. Remove from oven.
Cut radishes into slices and chop ½ cup or so of fresh tarragon.
Spread a generous amount of softened butter onto each toast. Top with a few sliced radishes and sprinkle with salt. Finish with a sprinkling of fresh tarragon.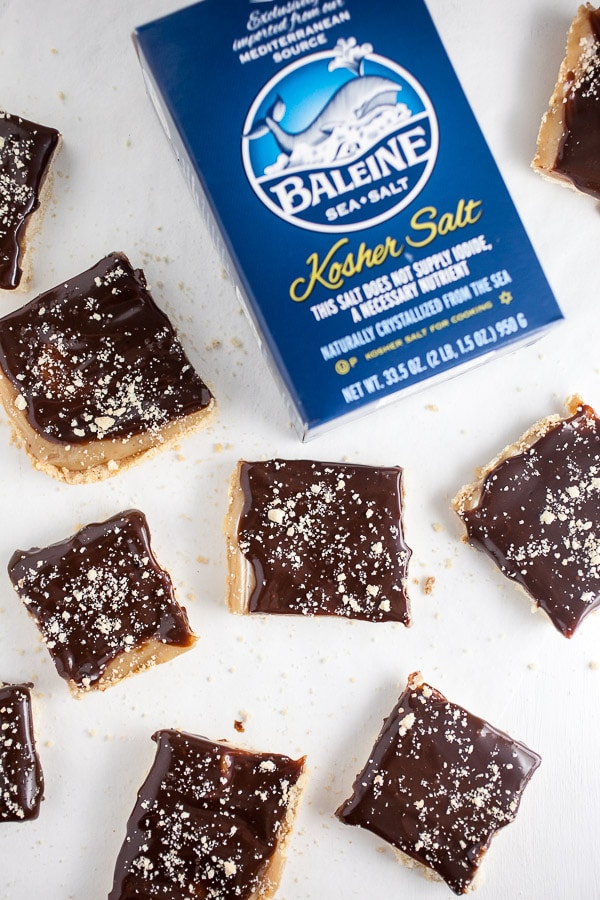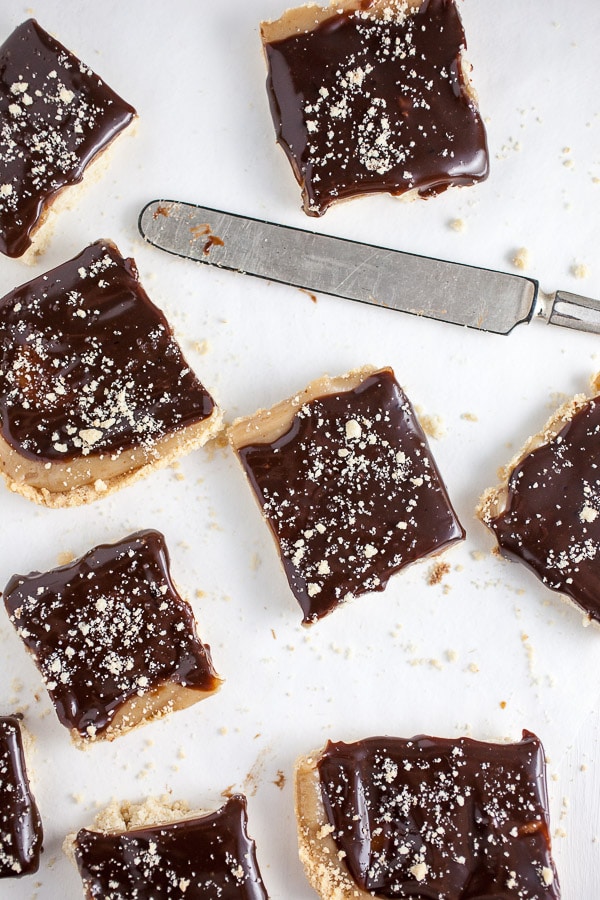 I am a self-admitted choc-o-holic. I can (and sometimes do) eat chocolate every day. So I had to incorporate chocolate into our summer French party.
These Salted Caramel Chocolate Shortbread Bars were the perfect sweet treat to top off the party. They were topped with La Baleine kosher sea salt. This sea salt creates the perfect accent to these shortbread bars. It offsets the sweetness just a bit. This sea salt comes straight from the Mediterranean and is of the highest quality.
Honestly, I don't know if I can go back to regular salt after this.
[Recipe Below]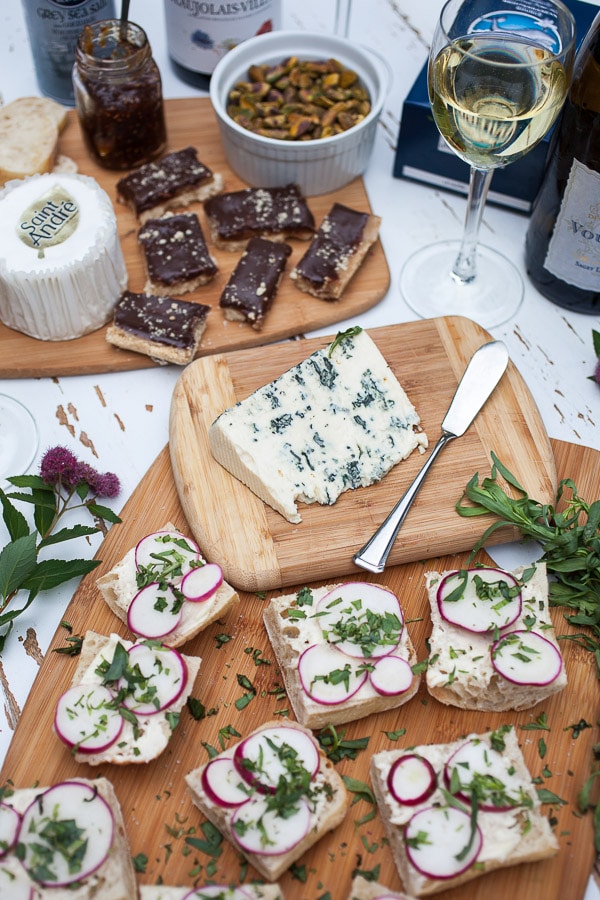 There is no time like summer to get together with friends and family and enjoy simple things like good food and wine.
Summer in Minnesota goes by so quickly I have been determined to enjoy it this year.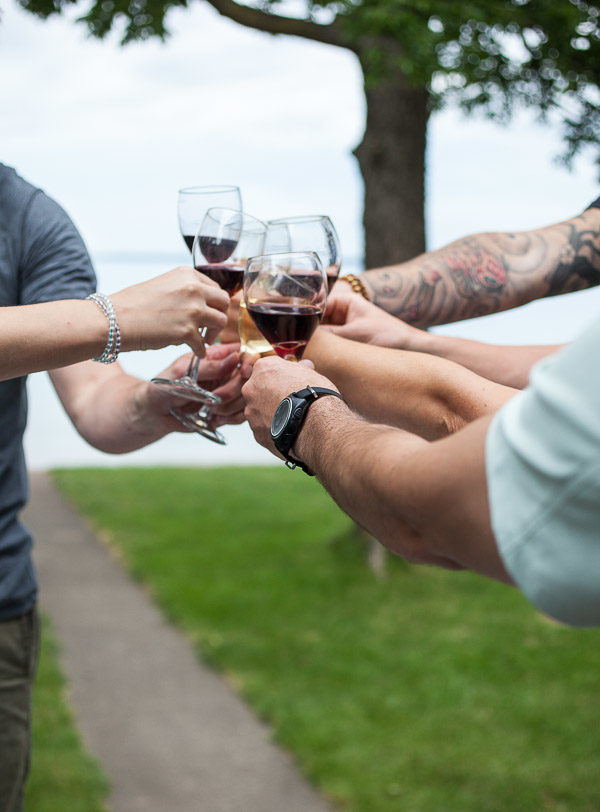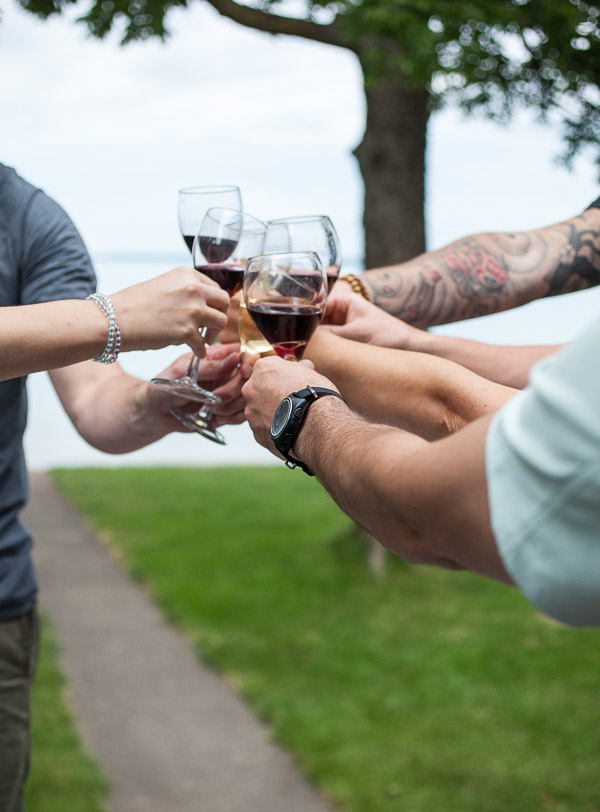 Here's to good friends, good food and wine, and plenty of joie de vivre!
Looking For More Chocolate Recipes? Don't Miss These!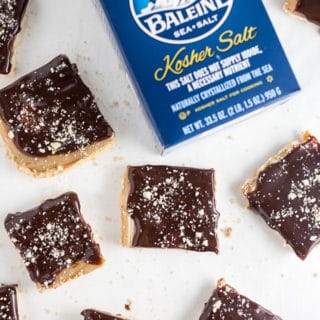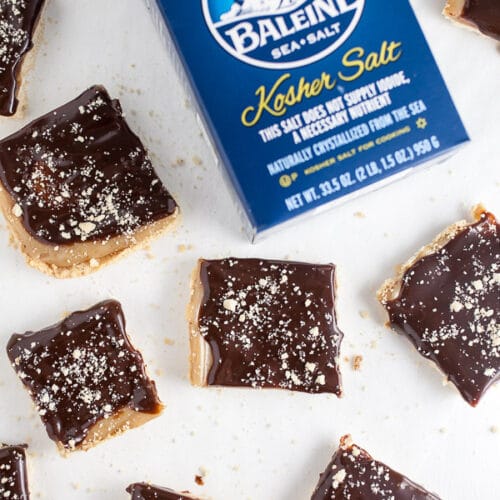 Salted Caramel Chocolate Shortbread Bars
These Salted Caramel Chocolate Shortbread Bars are a decadent dessert bar recipe featuring crunchy shortbread, caramel, chocolate ganache and sea salt.

Instructions
For the shortbread: Heat oven to 350 degrees. Grease a 13x9" cake pan with butter. Add 1 stick softened unsalted butter to a Kitchen Aid mixer and beat until light and fluffy (can use hand-mixer as well). Add ⅓ cup white sugar and beat for another 30 seconds. Add 1 egg yolk and ½ tsp. vanilla extract. Continue to mix on medium-high, scraping the sides of the bowl down as needed. Add 2 ¼ cups of flour - ½ cup at a time. Make sure the flour is completely mixed in before adding another ½ cup. Continue until all 2 ¼ cups are added. The mixture will be course and crumbly and resemble pie dough.

Pour the flour mixture into the pan and spread into an even layer. Press the dough mixture down with your fingers to create a smooth, even layer. Bake the shortbread layer for 22-25 minutes on 350 degrees or until the edges are nice and golden. Remove from oven and let cool.

For the caramel: Heat 6 Tbsp. of unsalted butter and ½ cup packed brown sugar in a small sauce pan on the stove top. Melt the butter and combine with the brown sugar on medium-low heat. Bring the heat to medium and slowly add 1 14 oz. can sweetened condensed milk, whisking constantly. Attach a candy thermometer to the side of the sauce pan. Bring the mixture to medium-high heat and allow to come to a light boil. Reduce the heat to medium once again and cook for 8 minutes or until the mixture reaches 225 degrees, whisking the entire time. The caramel mixture will deepen in color and get more sticky as it cooks. Add a pinch of salt at the end of cooking. Remove from heat and pour the caramel mixture onto the cooled shortbread in spread into an even layer. Allow to cool.

For the chocolate ganache: Bring a small amount of water to a light boil in a double boiler. Add 8 oz. of semisweet chocolate chips and ½ cup heavy whipping cream to the pan. Stir until the chocolate and cream have combined. Add 1 tsp. of instant coffee granules and stir to combine. Pour the chocolate ganache over the cooled caramel shortbread.

Sprinkle the bars with desired amount of kosher sea salt. Cut into squares and serve.
Notes
When making the caramel: Be sure to whisk constantly to prevent the caramel from sticking to the bottom of the pan. Watch the temperature to prevent it from burning.
When making the ganache: The chocolate may clump a bit when first melted. Slowly continue to add heavy whipping cream while the water is on a low boil and stir with a whisk for a few minutes and the ganache should become smooth.
These bars last for 2 days stored in an airtight container at room temperature. If storing for more than 2 days, transfer to an airtight container and store in the refrigerator.
Nutrition