A light and vibrant lemony spring vegetable pasta recipe made with fresh peas, spinach, artichokes and topped with fresh Parmesan cheese.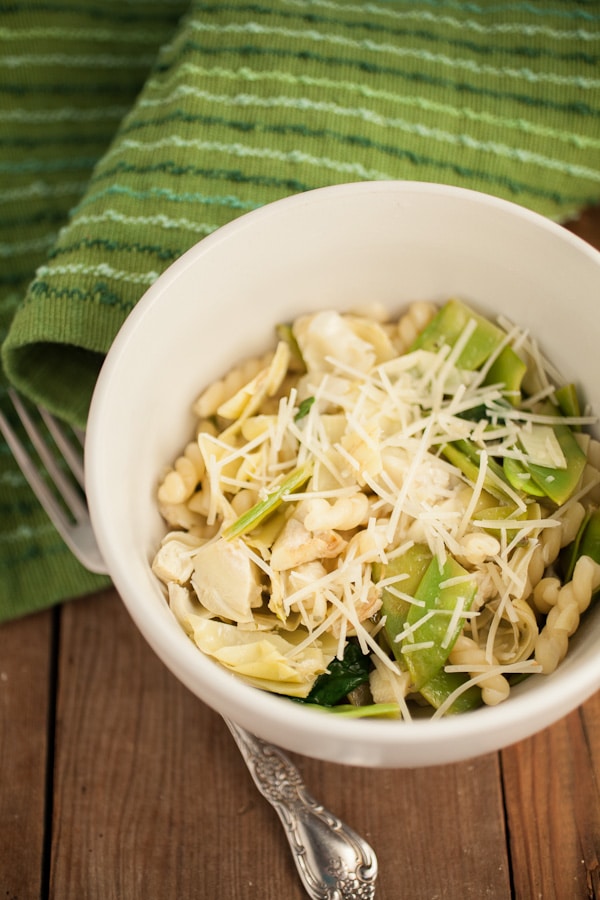 I don't know about you, but when the weather starts to warm up, my flavors start to lighten up. When it comes to pasta, I migrate away from the heartier sauces and toward the cleaner and simpler sauces. This pasta is just that. Bright, clean, and simple. It utilizes the flavors of spring and early summer. This makes for a great weeknight meal. You can spend less time preparing food in the kitchen and more time enjoying the nice spring evenings. Minnesotans receive roughly a three week window each year when all the snow has melted and the mosquitoes have not yet made an appearance. A three week window when we are able to sit outside without swatting at our arms and legs as we curse that high pitched hum in our ear and find ourselves reaching for the bug spray.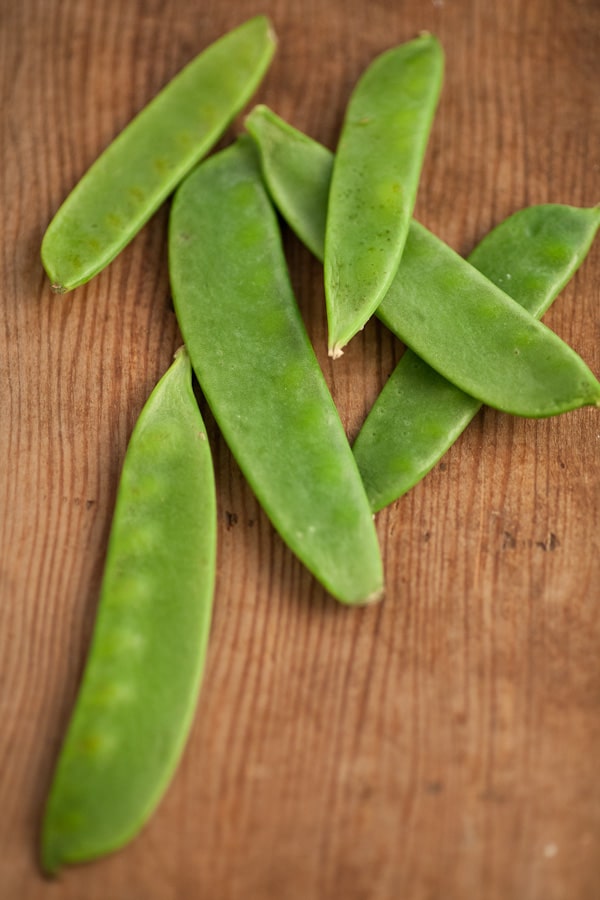 One of the other great things about spring/early summer are fresh peas. And if you plant peas in your garden, you know that the day your first peas are ready to be picked is a good day. It means a few weeks of fresh peas to be used as you wish. I encourage you to try them in this pasta. I start out by slicing them into halves or thirds and sauteing them over medium high heat in some oil, a little onion, and a healthy dose of garlic. I'm a bit of a garlic hound - I use roughly 6-8 cloves of garlic in all of my recipes. But, if that's too much for you and you'd like to use less, it's OK. I promise I won't be offended.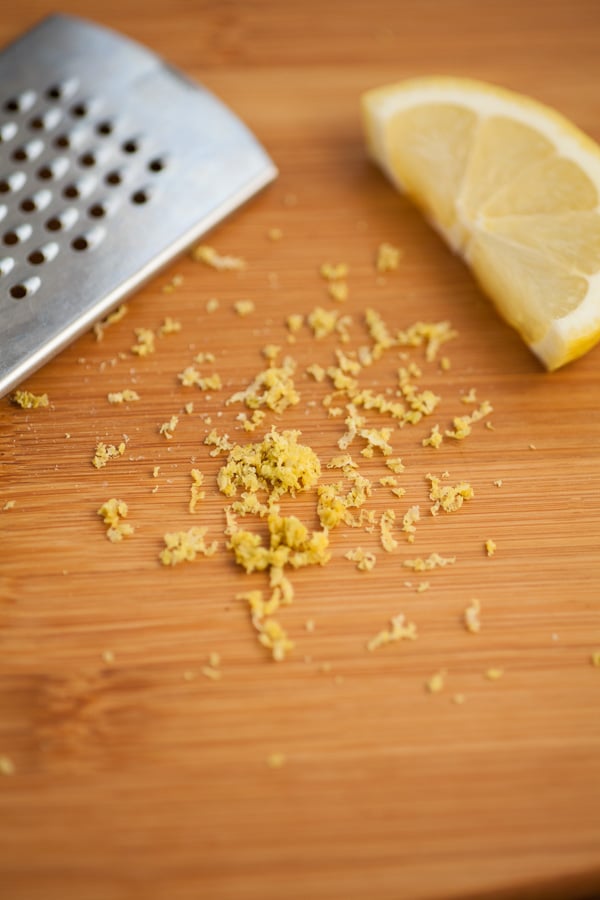 The real star of this dish is not garlic, but lemon. It calls for the juice and the zest of one lemon. Lemon zest is kind of like the bonus you weren't expecting when you bought the lemon. It's easy to forget it's there, but neglecting to use it means missing out on some major flavor. Lemon zest is full of oils that almost perfume whatever dish you add it to with intense lemon goodness. Just take a micro-plane or the smallest grate on your cheese grater and zest the outer coating of the whole lemon. I recommend doing this before you cut the lemon in half. You'll make your life a little harder if you cut before you zest.
If lemon is the star of this dish, then the marinated artichokes are the best supporting actor. I love jarred marinated artichoke hearts. You can use regular jarred marinated artichokes, but the herbs and spices that they marinate the artichokes in really amp up the flavor in this pasta. To be honest, I'm not even sure what herbs and spices are used to marinate artichokes. But, whatever they are - they're tasty. I just chop the hearts into smaller pieces and add them at the end after I have plated the pasta. So, they are not cooked. Just tossed in at the end to bump up the flavor with their salty brininess.
At the very end, I add a sprinkle of Parmesan cheese and a squeeze of fresh lemon. Fresh herbs would also make a great garnish. And there you have it. Now, you can enjoy your spring vegetables and your spring evenings at the same time.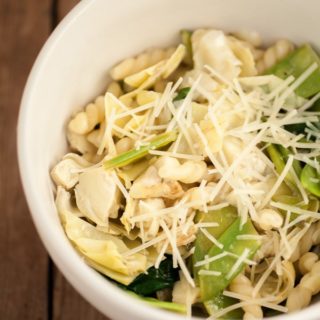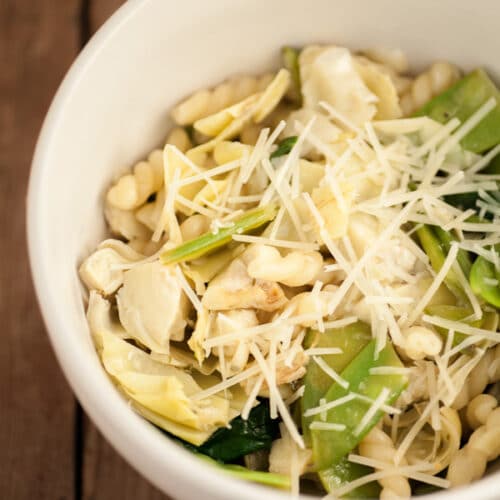 Lemony Spring Vegetable Pasta
A light and vibrant lemony spring vegetable pasta recipe made with fresh peas, spinach, artichokes and topped with fresh Parmesan cheese.

Ingredients
1

package dry pasta - I used Gemelli pasta

½

onion

8

cloves

garlic

1

tablespoon

olive oil

3

cups

fresh snap peas

1

cup

fresh spinach

2

cups

marinated artichokes

Zest and juice of 1 lemon

2

cups

vegetable broth

salt

adjust to taste

pepper

adjust to taste

½

cup

parmesan cheese
Instructions
Cook pasta according to package instructions.

Mince 8 cloves garlic and ½ an onion.

Cut 3 cups snap peas into thirds.

Heat 1 Tbsp. cooking oil over medium high heat.

Add garlic and onion and cook until translucent - about 4 minutes.

Add peas along with a pinch of salt and pepper and saute for 5 minutes. Deglaze pan with ½ cup cooking stock if peas begin to stick to the pan.

Add remaining 1 ½ cups of cooking stock.

Add the lemon zest and the juice of half the lemon.

Cook the sauce for 3 minutes.

Add 1 cup fresh spinach to the sauce and cook until wilted - about 1 minute

Drain pasta and add desired amount of pasta to the pan with a little of the pasta water.

Portion the pasta into bowls and add the chopped marinated artichokes.

Cut remaining half of lemon into wedges and squeeze a wedge of fresh lemon over each bowl of pasta.

Sprinkle with parmesan cheese.
Notes
Fresh herbs can also be added to the finished pasta.
Nutrition