This Simple Spring Antipasto Platter is a great addition to any spring holiday or get-together! It's full of flavors like artichokes, honey, and olives.
This post was sponsored by Pearls Olives but the thoughts and opinions expressed here are my own.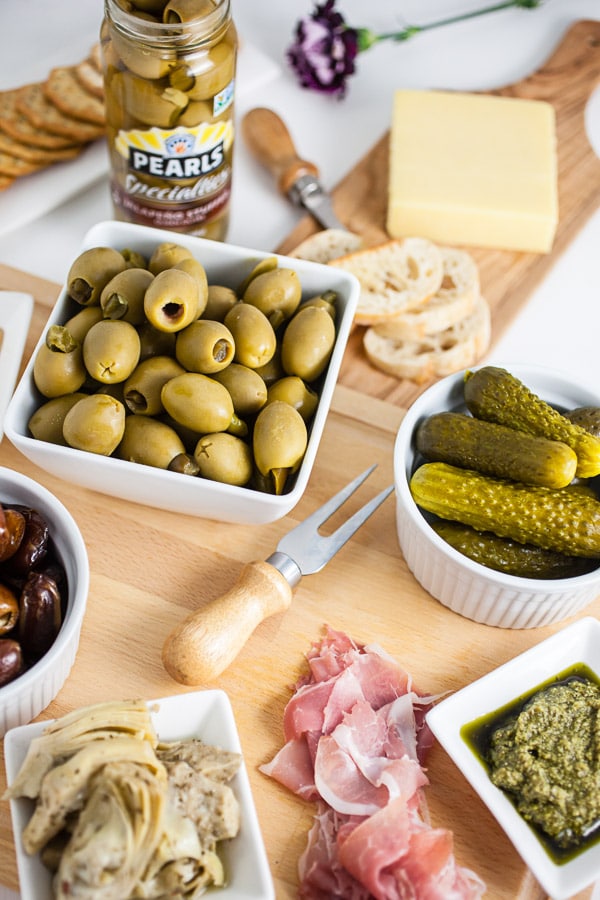 Spring is just around the corner and that generally means lots of get-togethers and celebrations. In Minnesota, we tend to hibernate during the winter and our social lives get a lot less social.
When spring and summer come around there is an explosion of birthday parties, graduations, bridal and baby showers, weddings, town festivals, and holidays.
The sudden uptick in social activities can be a little jarring (especially for major introverts like myself). Sometimes it's nice to have a go-to recipe or menu when we find ourselves in charge of planning and hosting said get-togethers, or, in the case it's a pot-luck style gathering where everyone brings a dish.
It makes life a little less stressful to have that one dish in your arsenal. A dish that's great for entertaining, feeding a crowd, and that everyone will love. One of my favorite things to put on a menu any time of year is an antipasto platter.
Like this Simple Spring Antipasto Platter.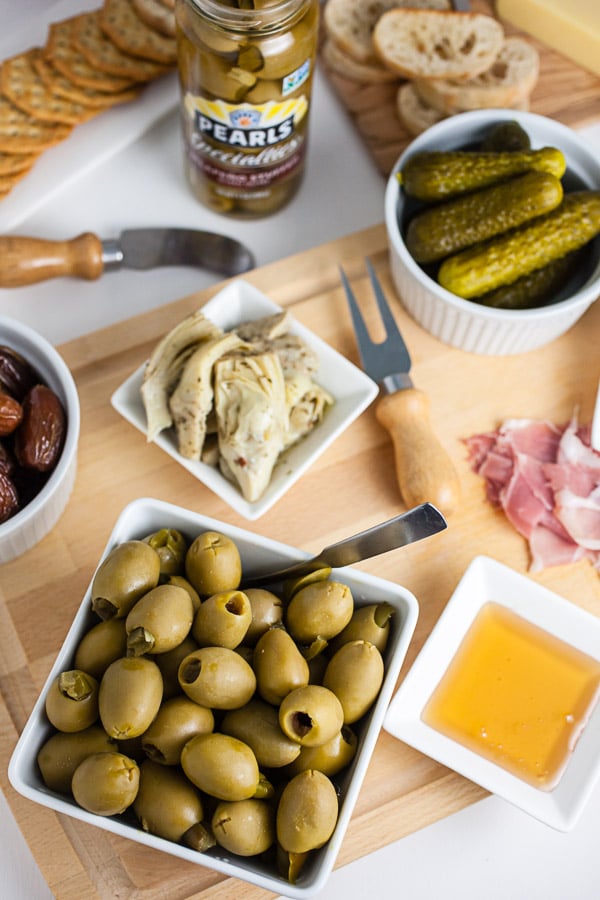 What Is Antipasto?
Antipasto is served at the beginning of an Italian meal. It sort of serves as an appetizer and is meant to awaken the palate. There are all kinds of vibrant flavors in an antipasto platter and it can be altered depending on the time of year.
This type of dish is great to have on hand because you can customize it with seasonal vegetables, fruits, and flavors. It's similar to a charcuterie or cheese board. A mixture of flavors and textures that encourage social eating and get your guests excited for a meal without filling them up completely.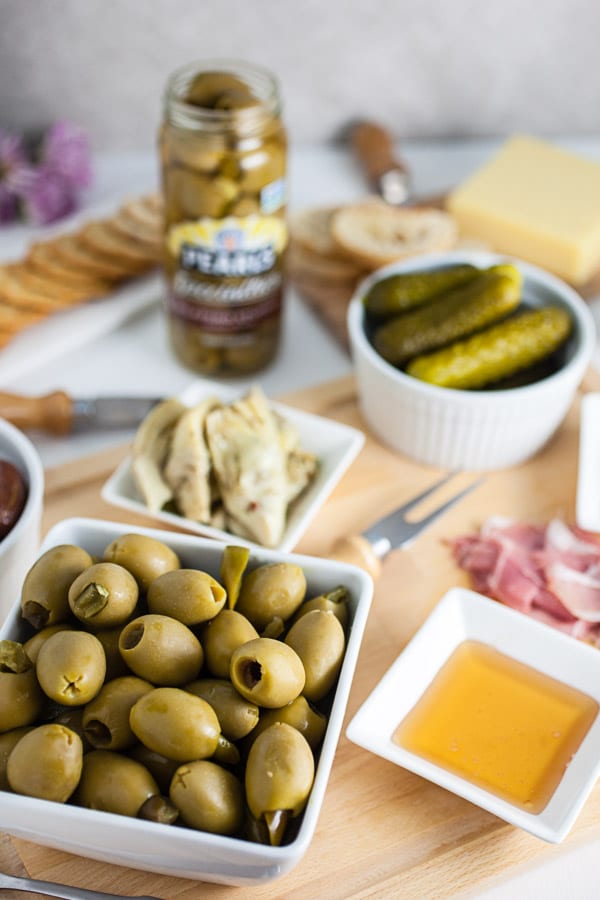 An antipasto platter is full of flavors that complement each other. It's a combination of salty, briny, sweet, earthy, and spicy flavors. There are heavier elements like creamy cheese and cured meats and lighter ones like pickles and olives.
This platter is geared toward celebrating spring so it's got marinated artichokes, basil pesto, honey, dates, and grass-fed cheddar cheese. Spring vegetables like asparagus, snap peas, and radishes would make a great addition as well as lighter cheeses like goat and ricotta.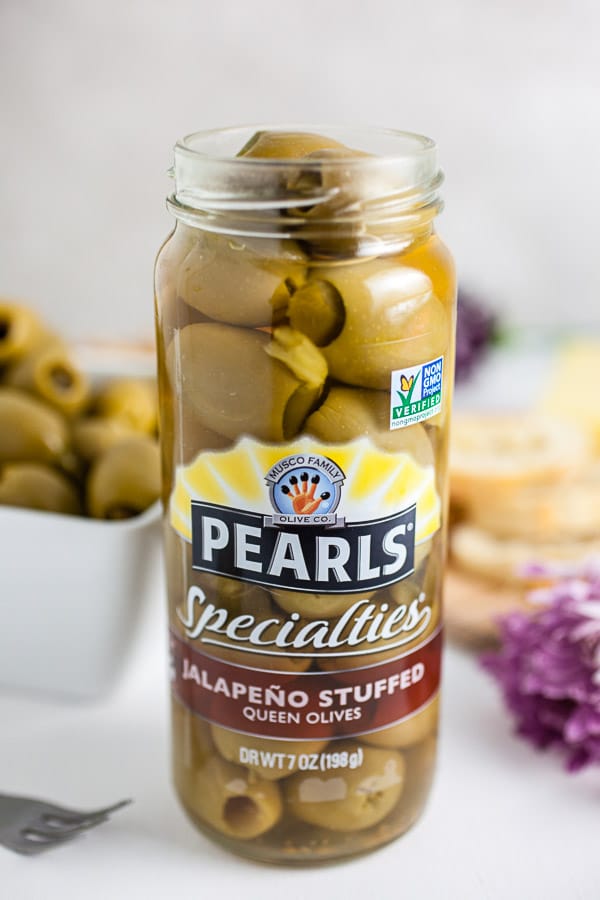 Olives are one of the cornerstones of a good antipasto platter. They provide that perfect briny pop of flavor that's so quintessential to a dish like this. One of my favorite olives to use are these Pearls® Specialties from Musco Family Olives.
These olives are the real deal. This family-owned company works directly with farmers from Greece to provide their customers with the best quality olives. What they're doing is working because these things are amazing.
They've got great texture and tons of flavor. I love spicy foods and the jalapeno stuffed variety has just the right amount of kick.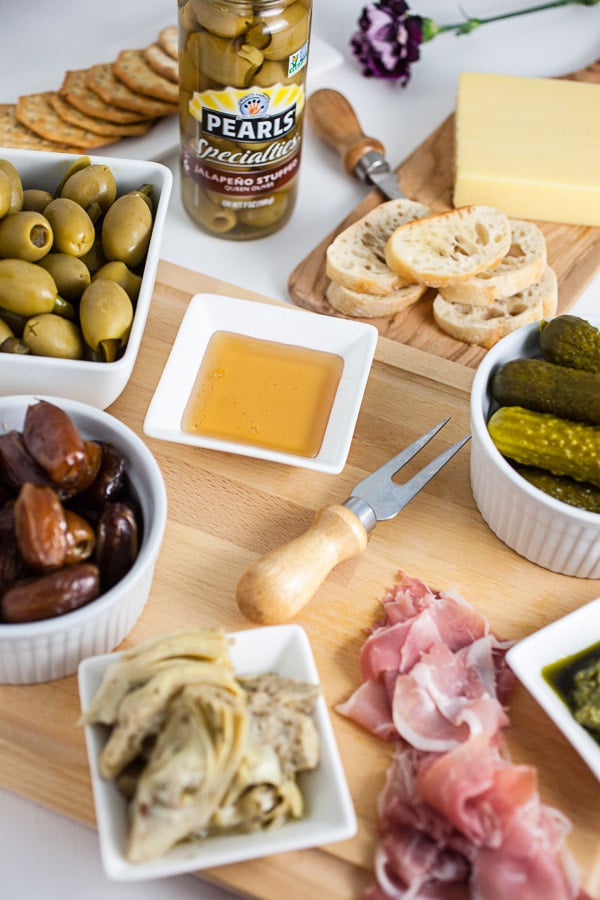 Specialty olives like Pearls® give your guests some serious 'Premium Snacking'. And the best part about a dish like this is that it's easy! Simply open the jars, place them into dishes of various shapes and colors, and arrange all the elements to look pretty.
I love to serve this kind of platter with crostini and some assorted crackers.
To make the crostini just heat the oven to 350 degrees, cut a baguette into small slices and arrange them on a roasting pan, drizzle them with olive oil, and place the pan in the oven for 5-6 minutes.
Crostini are a great vehicle for your assortment of cheese, meats, and salty snacks.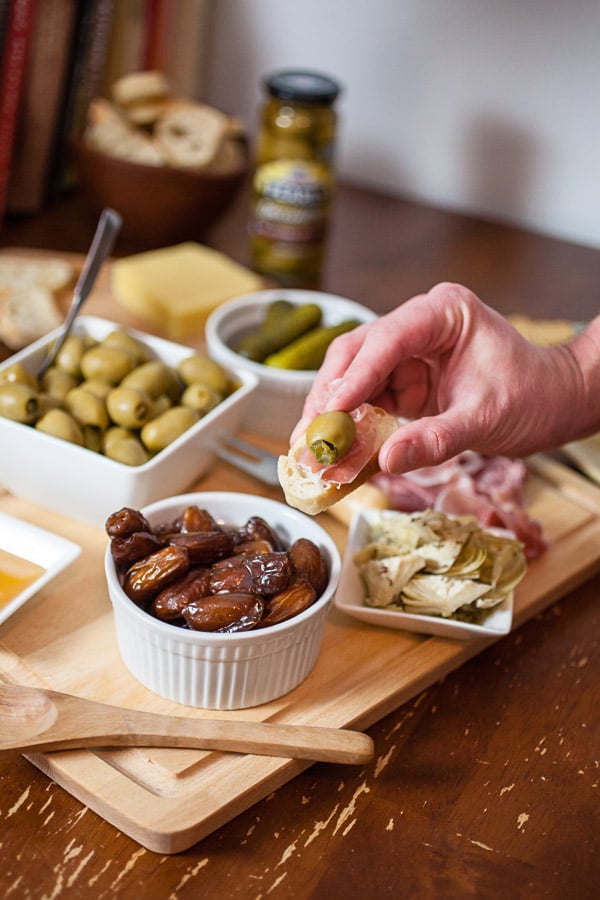 Pearls® are not only great for this type of snacking but for general cooking as well. They're perfect on top of flatbreads and pizza, in a tapenade, in a salad, or as a spread on a sandwich like a muffaletta.
I like to take a crostini and top it with a slice of cheese, a slice of prosciutto, a drizzle of honey, and a jalapeno-stuffed olive.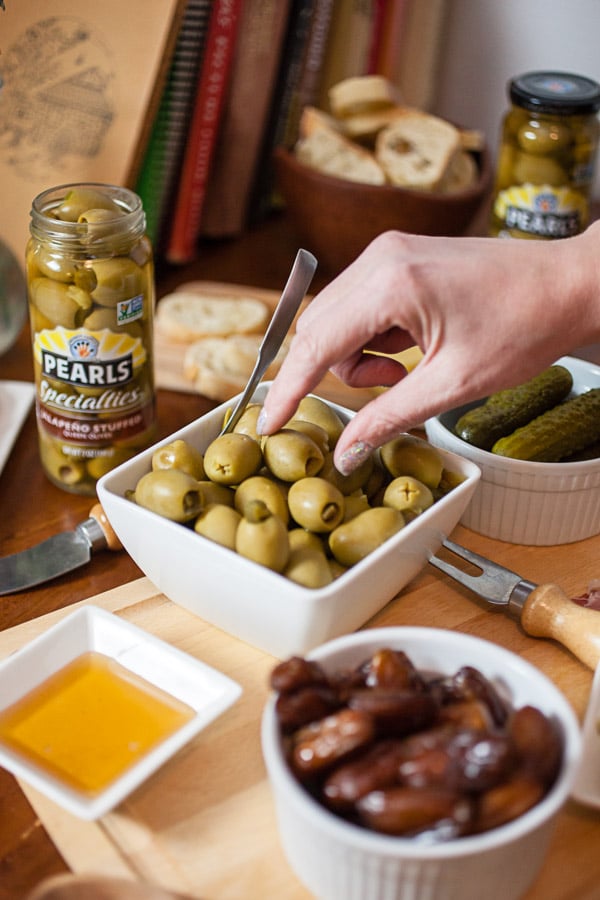 Easy go-to dishes like this will definitely be a welcome addition to your next spring party or holiday. It's especially great for people like my husband who love to 'snack'. Grazing on small bites or anything that involves crackers is his idea of a perfect meal.
I'm all for following the Italians when it comes to food and eating. Light and casual snacking that encourages conversation and interaction is all right by me!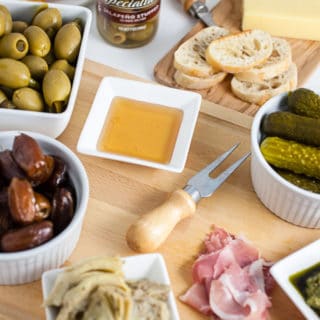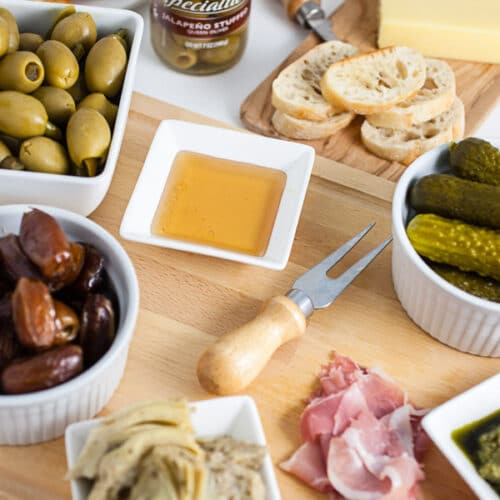 Simple Spring Antipasto Platter
This Simple Spring Antipasto Platter is a great addition to any spring holiday or get-together! It's full of flavors like artichokes, honey, and olives.

Ingredients
1

jar

marinated artichokes

1

jar

basil pesto

1

package

dates

1

package

prosciutto

or cured meats like salami, soppressata, capocollo

1-2

varieties

cheese

such as cheddar, goat cheese, ricotta

¼

cup

honey

1-2

jars

Pearls® olives

1

jar

pickles

1-2

varieties

spring vegetables

such as asparagus, snap peas, radishes

1-2

varieties

nuts

such as walnuts, pistachios, almonds

1

package

crackers

1

baguette

1

Tbsp.

olive oil
Instructions
To make the crostini: Heat oven to 400 degrees. Slice a baguette into pieces. Arrange the pieces on a baking sheet and drizzle with 1 Tbsp. or so of olive oil. Place the pan in the oven for 5-6 minutes. Remove pan when finished and arrange toasted bread on a platter.

Gather a cutting board or favorite serving platter. Gather assorted serving bowls and dishes of various colors and sizes. Gather small serving forks and knives.

Open jars of artichokes, olives, pickles, and pesto and place them in serving bowls. Arrange on platter.

Fill in the platter with the cheese, prosciutto, nuts, honey, dates, and spring vegetables.

Place crostini and assorted crackers in serving bowls. Add to the platter.
Notes
Feel free to customize this platter as you like. Add as many or as few of the ingredients as you see fit. I find the best antipasto platters have elements that are salty, sweet, spicy, tangy, and earthy and include a variety of flavors and textures.