It's probably safe to assume that your life is pretty busy. My life is pretty busy as is the life of just about everyone I know. Now, I love to cook. It's one of my favorite things to do. But, like you, I don't always have a bunch of spare time or energy laying around. Sometimes I just want my dinner to be done so I can settle in and watch some West Wing or Arrested Development or whatever Netflix series we're making our way through. Enter this Mediterranean Salmon and Farro Buddha Bowl – It's fast (like, ready in 20 minutes fast), easy, healthy, and tasty. Taste is important – flavor will never take a backseat to convenience.
This post may contain affiliate links.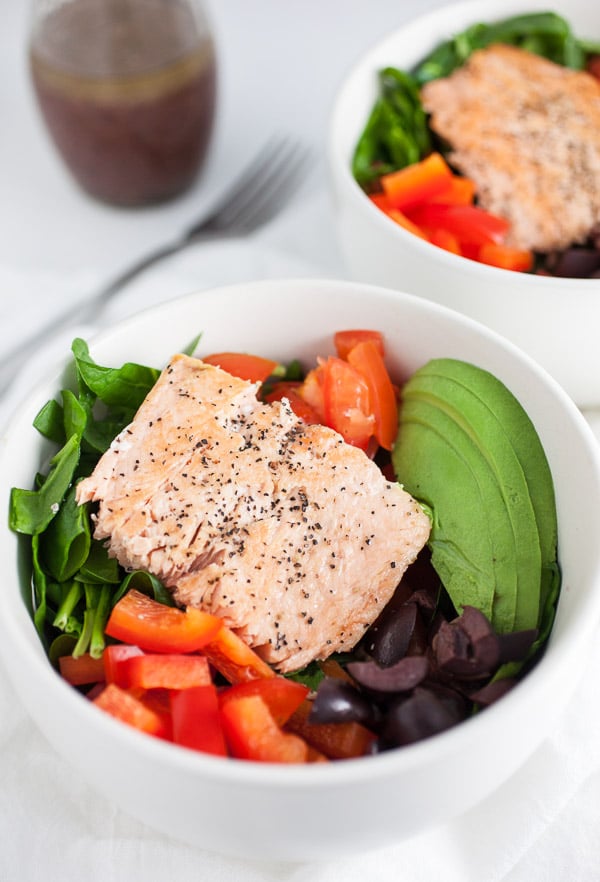 What is a Buddha bowl? It's basically a bowl full of healthy stuff like grains, vegetables, and a lean meat or meat substitute. They can be topped with nuts, dressings, or herbs. The combination of ingredients is endless. It's basically a big bowl of deliciousness that you can customize however you like. I started noticing the term 'Buddha bowl' when I got into blogging last year and admittedly had no idea what it meant. I asked a friend and as she was describing it I realized I had been making them for years without realizing there was a name for it.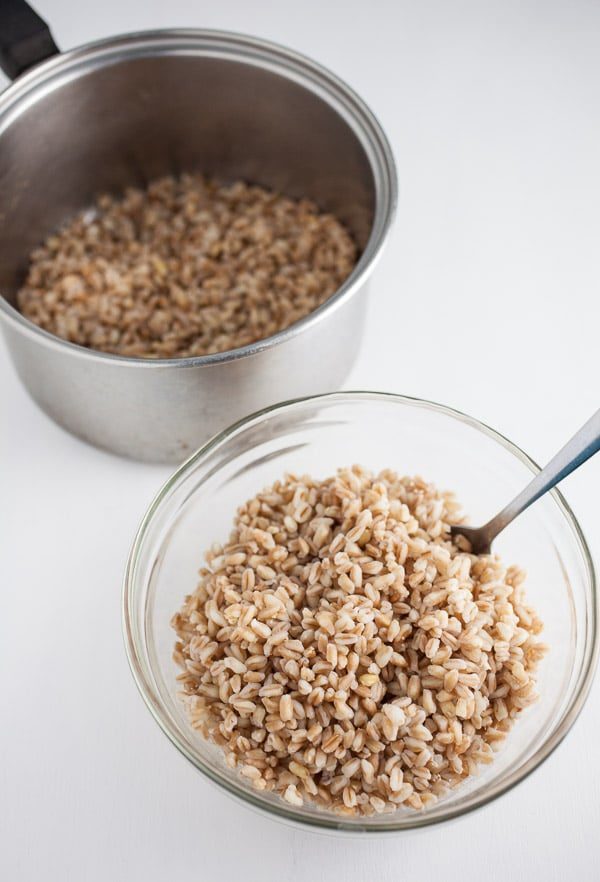 One ingredient I've really gotten into over the past year is farro. Farro is a grain that is derived from wheat and has kind of a nutty flavor. I like to use quick cook farro, well, because it's quick. It only takes about 12 minutes. Farro is a great way to bulk up salads and soups and it's a lighter alternative to pasta. Simply prepare 2 cups of quick-cook farro according to the package directions and drain. Set aside until it's time to assemble.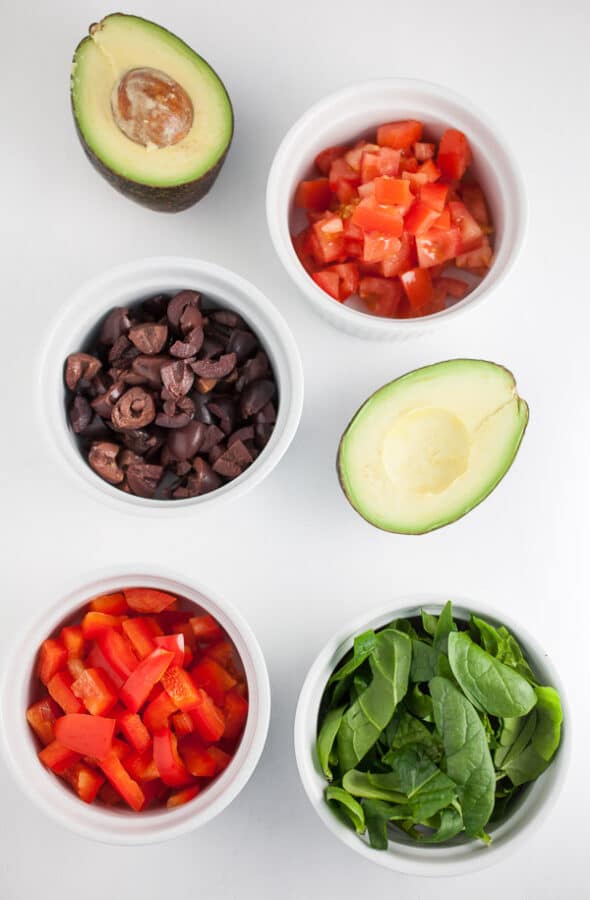 You can top this Buddha bowl with whatever veggies you have on hand but I totally recommend including these ones. I used red pepper (any color pepper will do), fresh spinach, tomatoes, avocado, and kalamata olives. The olives are the ingredient that really drives the Mediterranean part of this dish. Their salty and briny flavor pairs really well with the flavor of the salmon. Add the peppers for sweetness, the spinach for earthiness, tomatoes for tartness, and avocado for creaminess. Chop 1 pepper, 2 cups of spinach, 1 large tomato, 1 cup of kalamata olives, and 1 avocado. Set aside until assembly.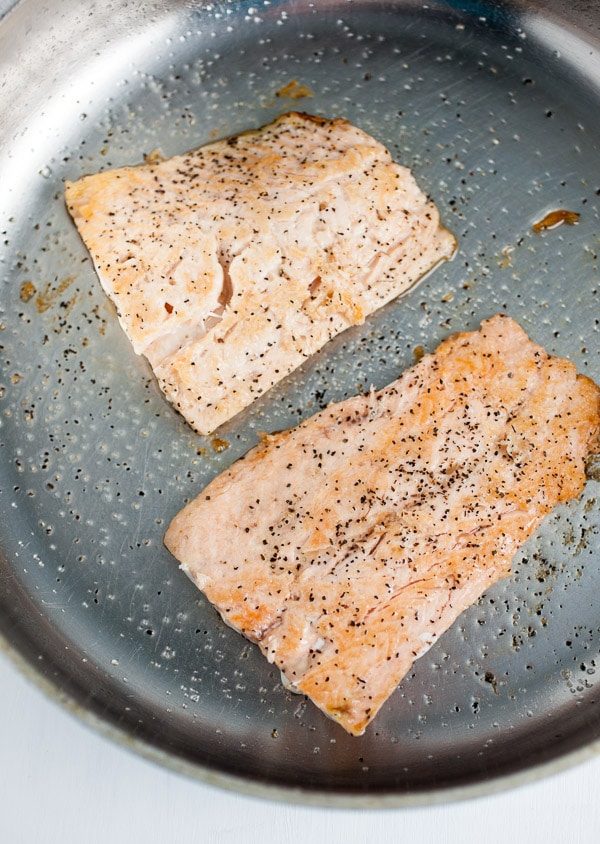 I love having a package of frozen salmon on hand. Salmon is a great option when you want to add a quick and easy protein to your meals. A package of frozen salmon usually contains 4 salmon fillets and that's perfect for this dish. The first step is to thaw the salmon. Once is thawed it is ready to fry. I recommend frying the salmon in batches so you don't overcrowd the pan. Heat a skillet to medium and add 1 Tbsp. of vegetable oil. Let the oil get nice and hot. Salmon should be cooked quickly in a hot pan. The salmon should sizzle as you add it to the pan. The trick with salmon or any seafood is not to overcook it. Overcooked seafood is rubbery. Place the fillets in the pan (skin side down if you're using skin-on salmon) and cook for 3-4 minutes on the first side. Add a generous amount of salt and pepper. Thicker fillets will take longer to cook – this recipe is written for smaller fillets. The color will lighten as it cooks. Flip the salmon once it has cooked about 3/4 of the way through and cook for an additional 2 minutes on the other side, adding another pinch of salt and pepper. Remove once it is cooked and set aside. Repeat with the second batch of salmon.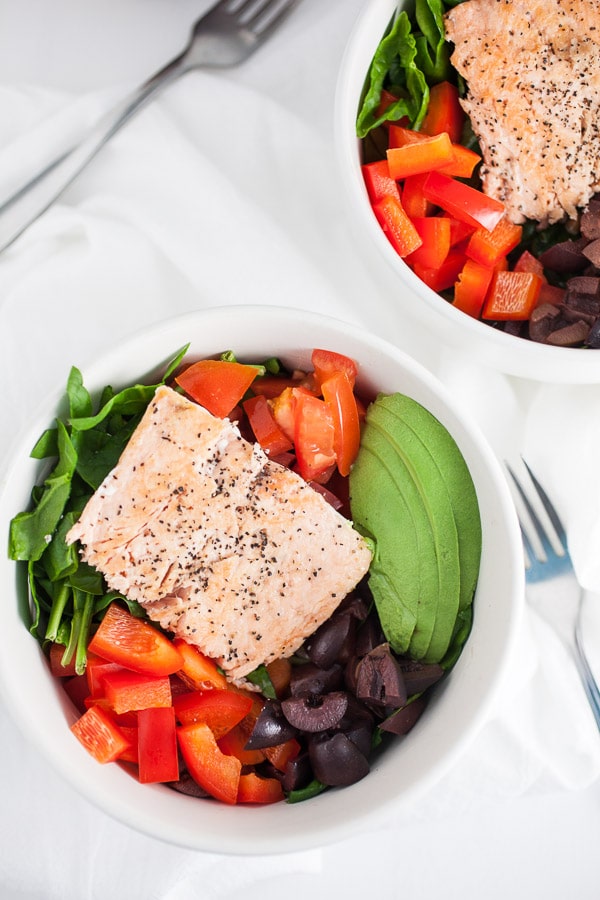 Now it's time to assemble. You can assemble them however you like, but I prefer to start with a couple scoops of farro in a bowl. Add some spinach and toss them together. Next up is the dressing. You can use any salad dressing you like. I did take a shortcut with this one and use a store bought dressing. I love a Greek vinaigrette for this Buddha bowl – it works with the kalamata olives to create that quintessential Mediterranean flavor we all love. Add a healthy amount of the vinaigrette to the farro and spinach and toss together again. Add the desired amount of each topping and then top the whole thing with your freshly cooked salmon. I love meals like this that are colorful, healthy but filling, and hit all the flavor high notes. And you don't have to wait all night for them to finish. Now get Netflix-ing!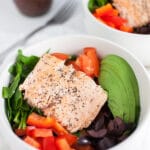 Mediterranean Salmon and Farro Buddha Bowls
A quick, easy, and healthy Mediterranean style Buddha bowl full of farro and topped with kalamata olives and fresh vegetables. Ready in 20 minutes!
Ingredients
2

cups

quick-cook farro

1

lb.

salmon fillets

2

Tbsp.

vegetable oil

1

bell pepper

1

cup

kalamata olives

3

cups

chopped fresh spinach

1

cup

chopped tomato

1

avocado

8

Tbsp.

Greek style vinaigrette

salt and pepper
Instructions
Thaw salmon fillets if necessary.

Chop fresh spinach, tomatoes, avocado, and kalamata olives. Set aside.

Cook 2 cups dry quick-cook farro according to package instructions. Drain and set aside.

Heat pan to medium and add 1 Tbsp. vegetable oil. Make sure oil is fully heated and add 2 salmon fillets to the pan (salmon should sizzle as it touches the oil).

Cook fillets for 3-4 minutes on the first side. Flip and cook for additional 1-2 minutes on second side. Add generous pinch of salt and pepper to both sides of the salmon.

Remove the first two fillets and repeat with second two fillets. Set aside.

Assemble the Buddha bowls - Add a scoop of farro to the bowl along with a handful of spinach. Add desired amount of vinaigrette and toss together.

Add more spinach, tomatoes, avocado, and olives on top of farro.

Top with cooked salmon fillets.
Recipe Notes
Feel free to top this Buddha bowl with any vegetables you like.
Add as much or as little Greek vinaigrette as you like.